This post has been sponsored by Nespresso. All thoughts and opinions are my own.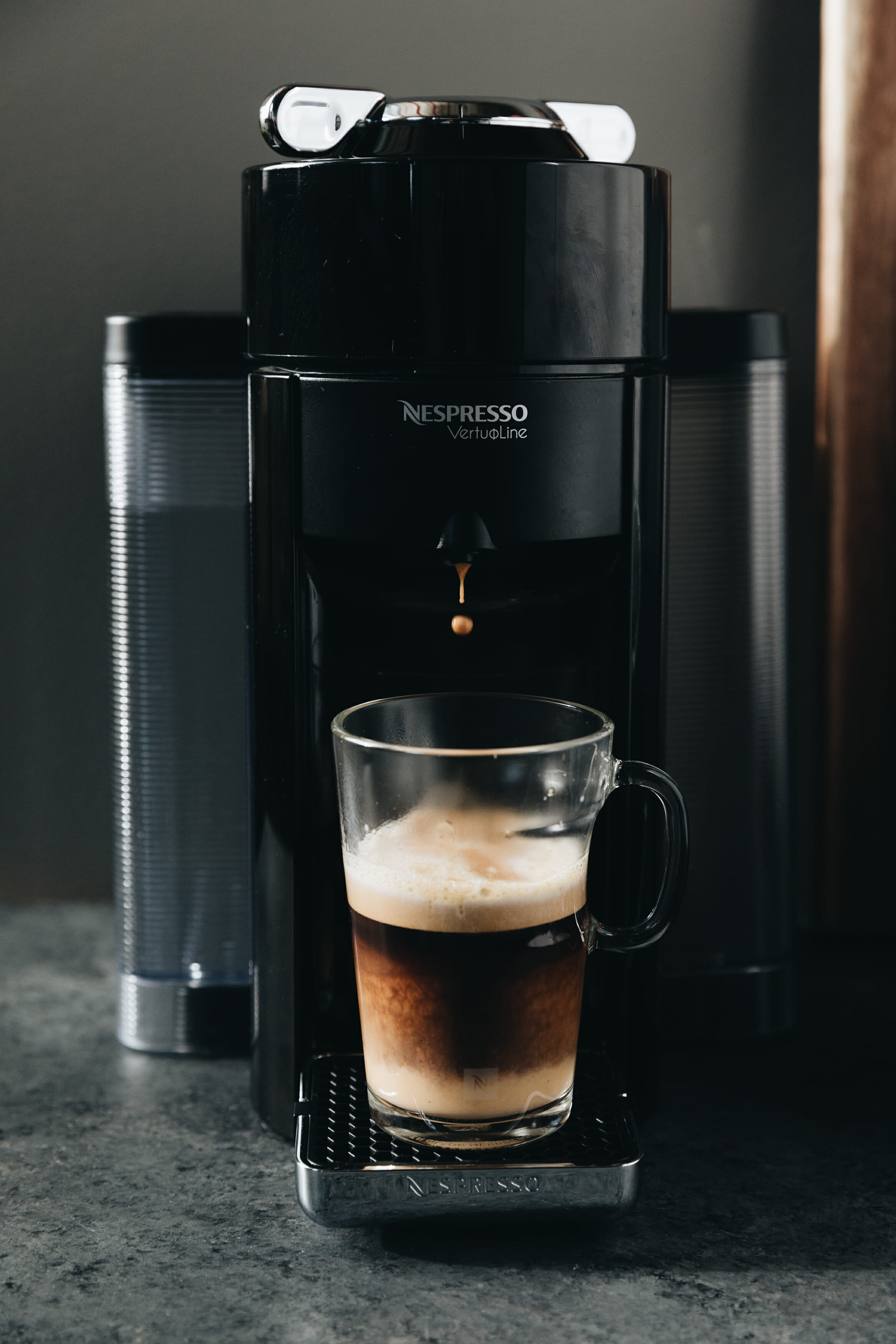 I can't believe that we're in the final stretch of 2017, and boy, what a year it has been. I've spent months and weeks on the road, went through a very rough breakup, moved into my first solo apartment, and just about everything in between. To say that this year was a challenge would be the largest understatement of the year, but we learn and grow into the people we're meant to be because of the adversities we face. So, I welcome any and all challenges with mostly open arms.
So when Nespresso reached out about me stepping outside my normal coffee routines and crafting a couple of alternative milk coffee drinks I was more than up for the challenge. After all, I've not drunk cow's milk in a number of years. Minus the occasional chocolate milk cravings that I find myself faced with after a night out with friends. Fun fact: I tested allergic to cow's milk at a young, young age, but refused to drink Soy Milk because I was the most ornery child. God love my parents. They definitely put up with a lot.
I also refused to let them get a Buick and literally threw a fit when my dad brought one home for a test drive. Why? Because I thought they were for old people. Still remember crying in the backseat of the car that we couldn't get it for that exact reason. And guess what? We didn't.
But I digress; obviously I've always been a bit "extra". So naturally I couldn't serve up just any coffee recipes for Nespresso. After a bit of brainstorming and a trip to New Orleans (more on that coming soon, promise!) I crafted TWO delicious alternative milk recipes that I'm excited to share with y'all. I used coconut milk in the recipes because I'm a huge, huge fan of the sweet taste of it – especially in my coffee. Naturally Almond, Soy, or Cashew Milk would work just as well. If you've not had the chance to dig into Coconut Ice Cream though I'd highly encourage you to do so. I may/may not have eaten both of these affogatos by myself after I shot the photos. Yes, it's that dang good – especially when you're serving it up with a shot or two of Nespresso coffee.
Speaking of Nespresso, you may remember them from when I shared a few iced coffee recipes last year. I've been a serious fan ever since, and if you follow me on Instagram (if you don't, now's the perfect time to) you know I love me some coffee. Their flavors, selection, AND the fact that they recycle their pods makes me a lifelong fan and coffee subscriber. Cause what's better than receiving a box full of your favorite coffee once every month? Especially when they have fun and exciting flavors for each and every season.
Now that I've raved about my love for Nespresso it's time for the fun part! Very excited to share with y'all my recipes for a Pumpkin Spice Latte that's far from basic and a deliciously decadent Affogato. Grab the recipes below, grab your Nespresso machine and/or pods here, and I promise you'll be as hooked as I am.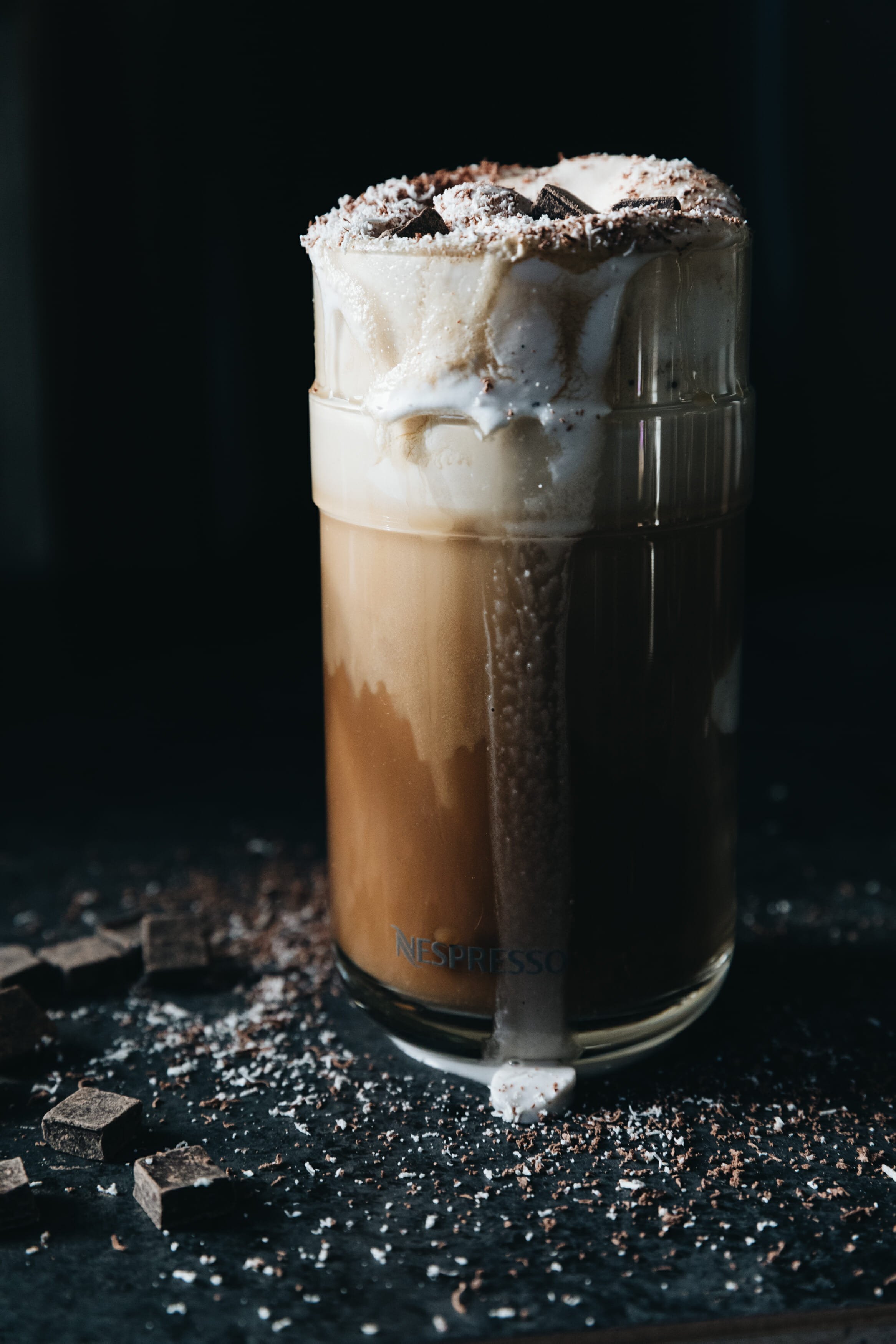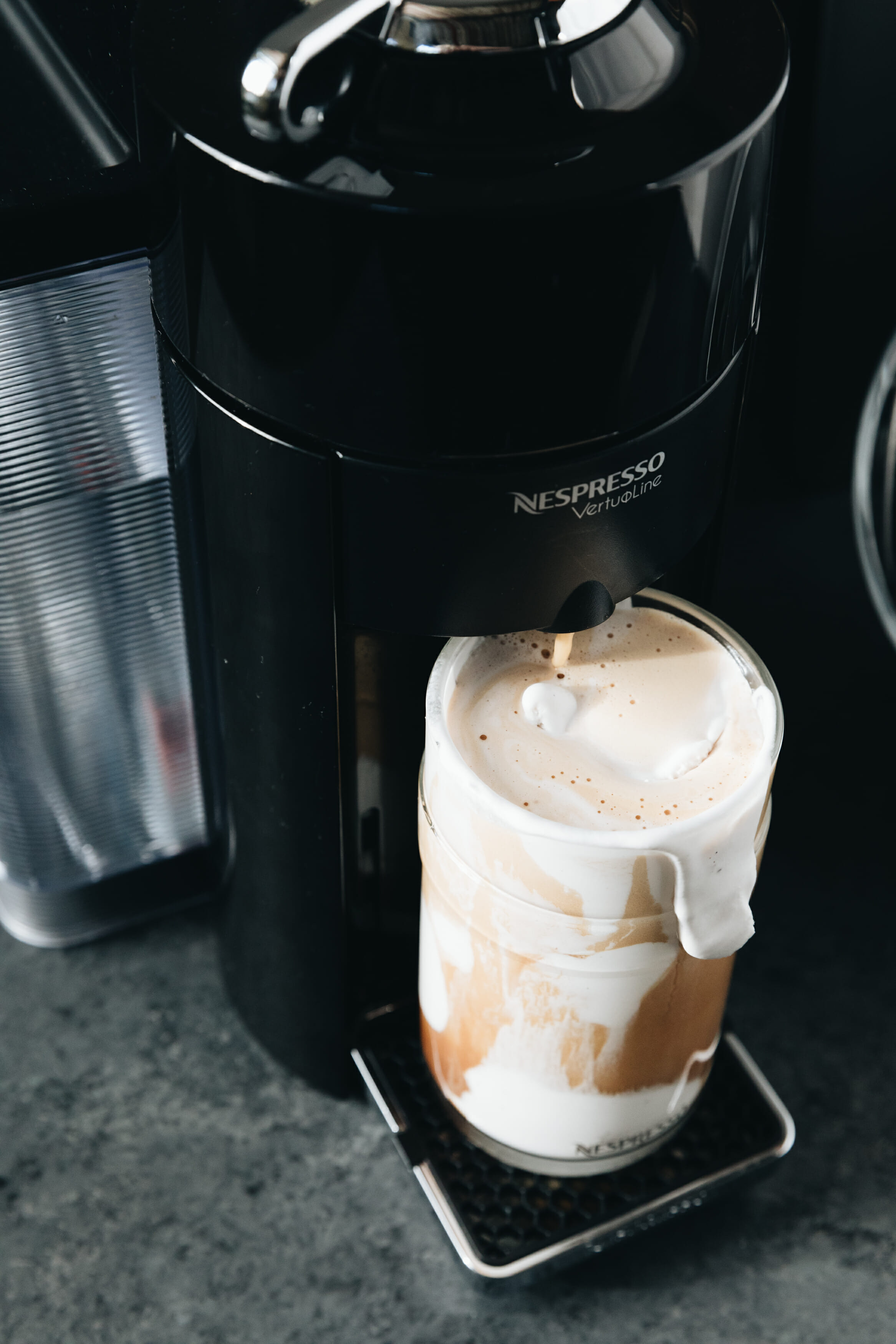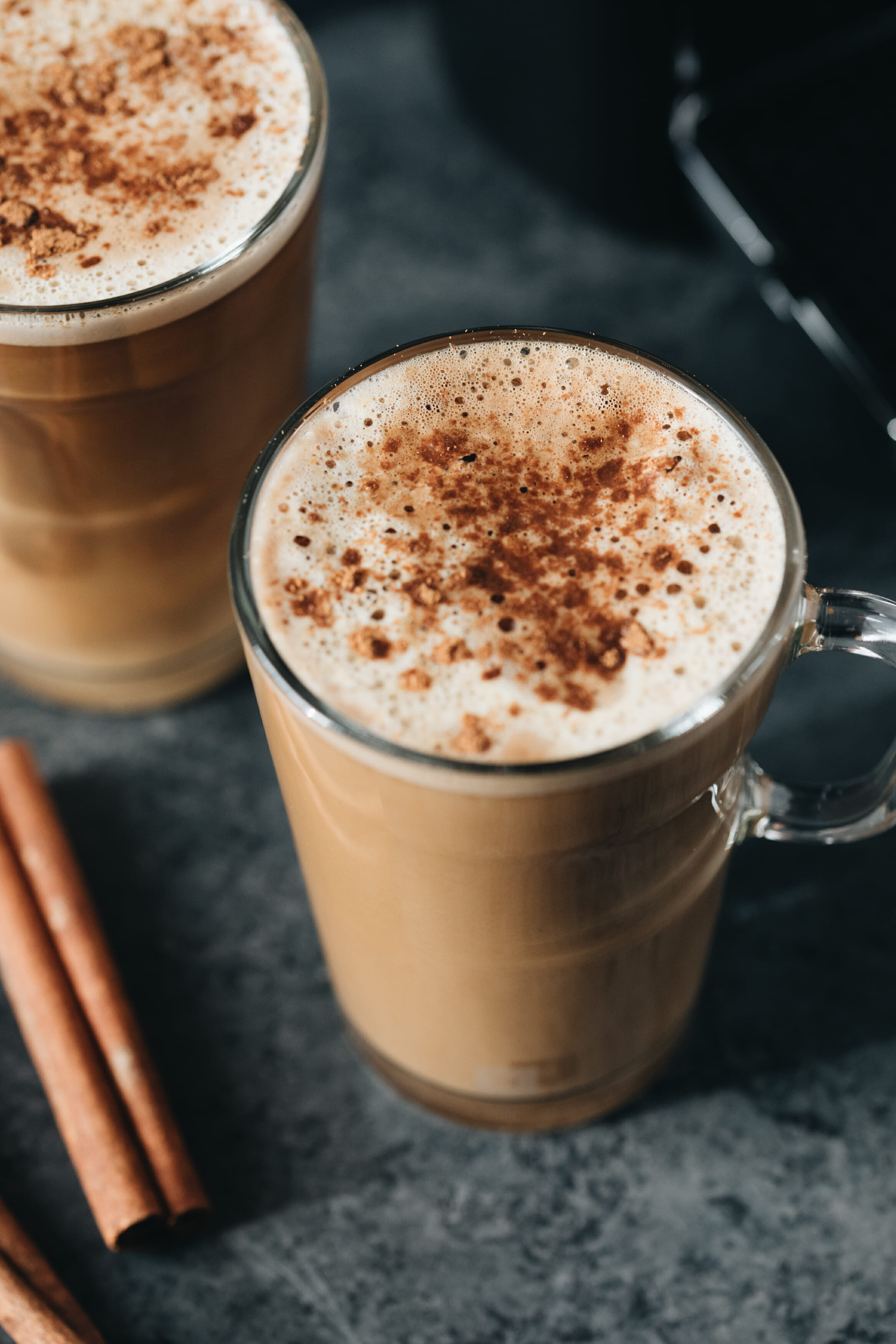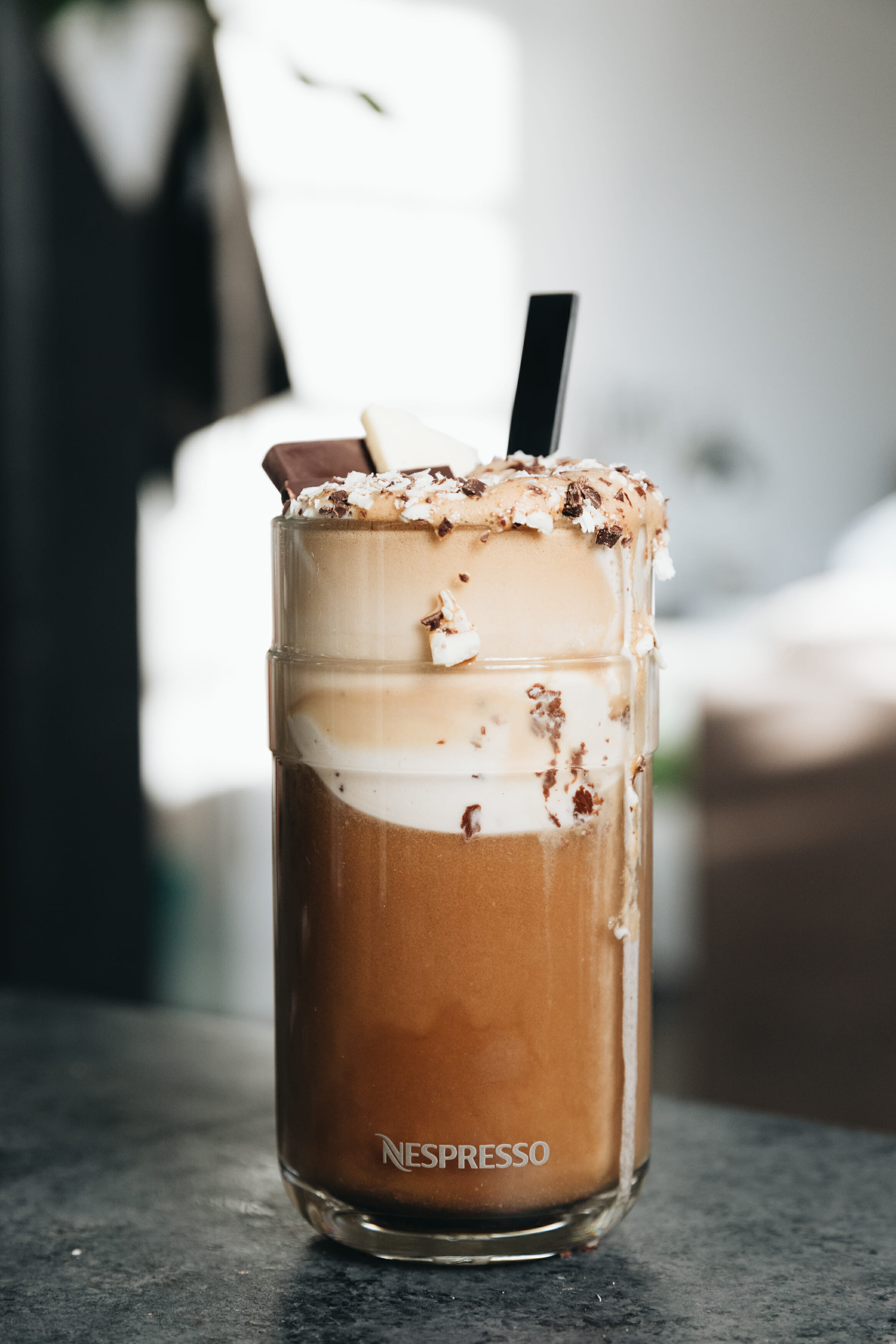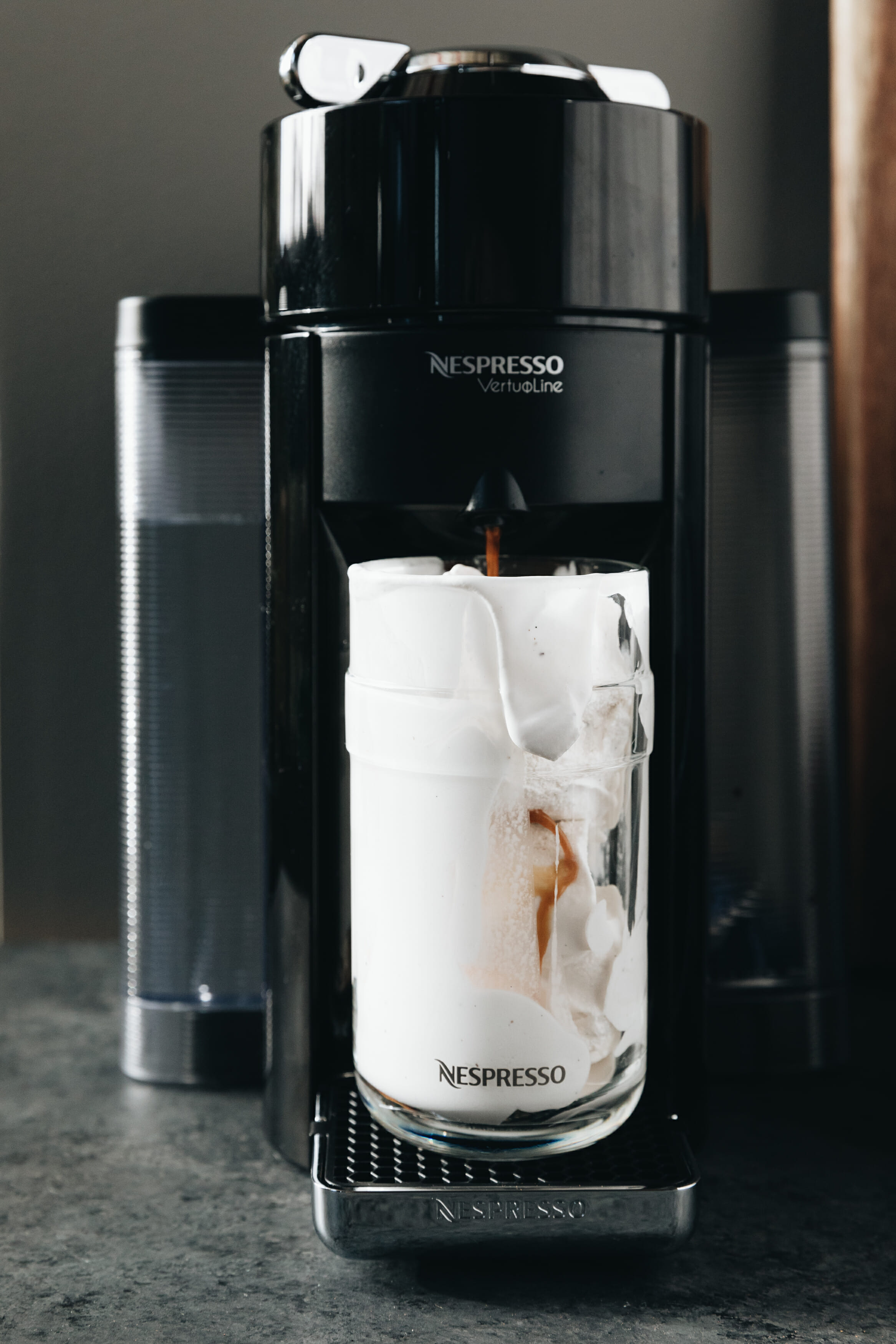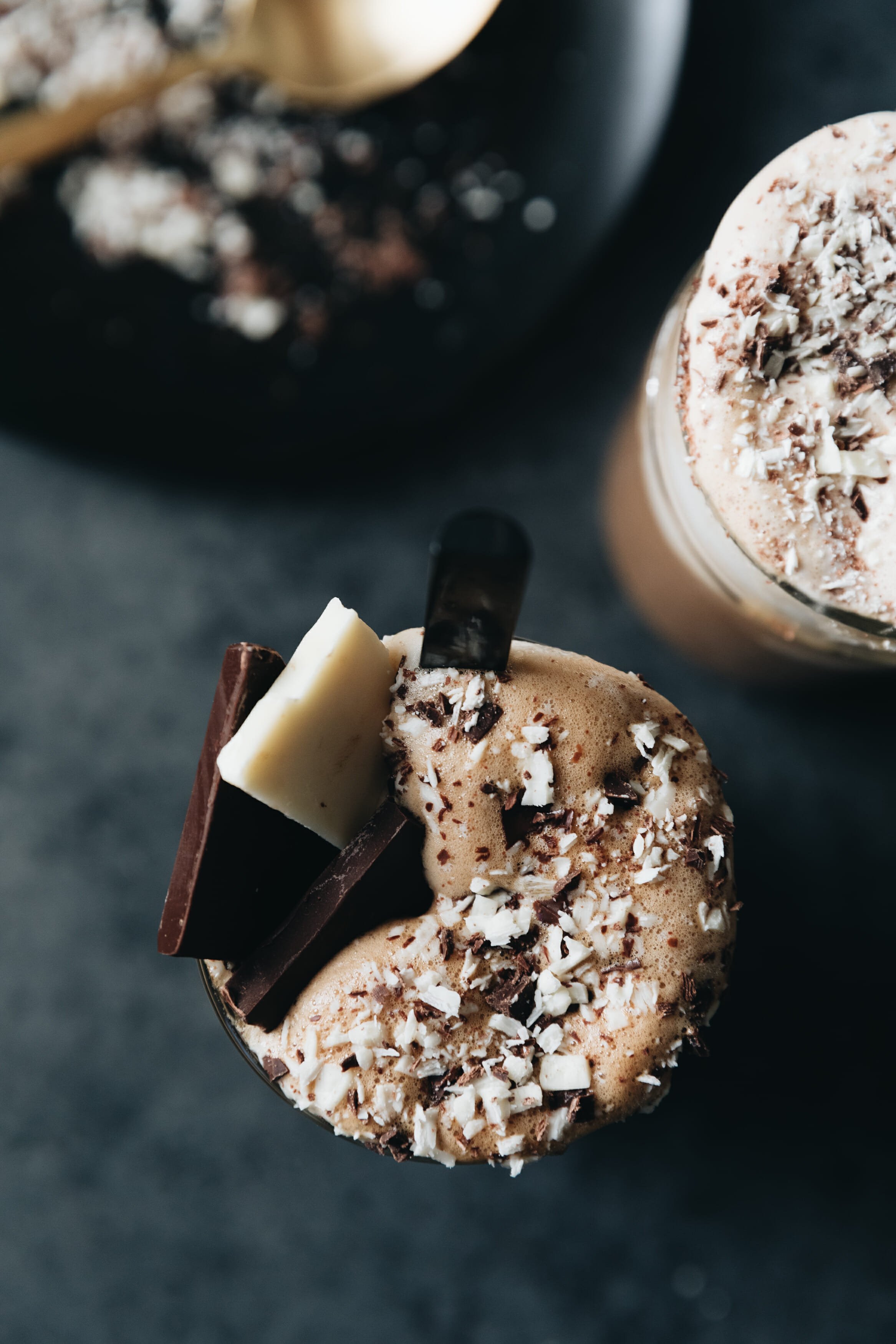 Print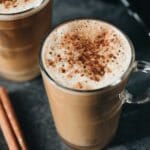 Pumpkin Spice Latte
---
Nespresso Diavolitto Pod

1 cup

pumpkin puree

2 cups

coconut milk

3 tbsp

. agave nectar

1 tbsp

. vanilla
---
Instructions
Combine pumpkin, milk, and agave in a saucepan over medium heat.
Whisk to combine and heat for 5 minutes.
Remove from heat, stir in vanilla, and set aside.
Fill your glass 2/3rds of the way full, insert a Diavolitto Pod into your machine, and brew as normal.
Top with freshly grated cinnamon and enjoy!
Notes
This recipe should make 2-3 lattes depending on the size of your mugs, but any excess pumpkin mixture can be stored in the refrigerator in an airtight container. Just be sure to reheat before added your espresso.
Nutrition
Serving Size:

4

Calories:

351

Sugar:

17.7g

Sodium:

21mg

Fat:

28.8g

Saturated Fat:

25.5g

Carbohydrates:

24g

Fiber:

5.2g

Protein:

3.4g
Print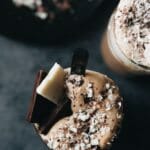 Coconut Ice Cream Affogato
---
1

Nespresso Pod

2

–

3

scoops coconut ice cream
Semisweet chocolate
White chocolate
---
Instructions
Scoop 2-3 scoops of ice cream into a tall glass, insert your favorite Nespresso pod into the machine, brew as normal.
Top with freshly grated semisweet and white chocolate, dig in with a spoon, and enjoy!
Nutrition
Serving Size:

1

Calories:

288

Sugar:

29.7g

Sodium:

106mg

Fat:

14.8g

Saturated Fat:

9.5g

Carbohydrates:

33.8g

Fiber:

1.1g

Protein:

4.8g

Cholesterol:

58mg