It goes without saying that I'll jump at almost any chance to travel. I'll jump at that opportunity even faster if it includes kicking off said travel with a staycation right here in Louisville, Kentucky. Cause who doesn't love a reason to ditch your home (and the day-to-day chores that come with it) in exchange for a comfortable hotel? Which luckily enough was just the case when Cambria Hotels reached out about hitting the road with them to experience not one, but two of their incredible properties.
If you're not familiar, Cambria Hotels caters to time-starved and experience-hungry modern travelers with amenities catered perfectly to fit their wants and needs. Every hotel offers guests a distinct, upscale experience that makes every stay feel like an upgrade. How exactly do Cambria Hotels set themselves apart in this regard? Great question!
Cambria sets themselves apart with upscale essentials like contemporary rooms with locally inspired design and décor, spa-like bathrooms with Bluetooth mirrors, free Wi-Fi, locally curated craft beer selections, and locally inspired food offerings. Their brand team spends a lot of time exploring the area, researching materials and local design styles, and building relationships with artisans and vendors to create a space that authentically captures the culture and essence of the city.
Thanks to prime locations, thoughtful designs, and locally inspired food and beverage offerings, their ever-growing portfolio of locations is the perfect homebase for an adventure in your own backyard or across the country. Don't believe me? Then, I'll let the experiences speak for themselves. So pour yourself a bourbon, and let's dive right in!
Stay Like a Louisville Local
Cambria Hotel Louisville Downtown – Whiskey Row is located in the heart of Louisville's Whiskey Row district. Because of its prime location, it's steps away from some of the best nightlife, restaurants, and bars the city has to offer. Which makes it the perfect place to call home and affords everyone the chance to live like a local for as little or as long as you're in Louisville.
Locally inspired designs reflect Louisville's unique horse racing culture and include natural materials such as walnut, soft hides, and deep marble fused with rich cognac and gold metals. Creating a perfect mix of rustic and equestrian elements that will have you feeling like you're really part of horse country. While some hotels can definitely feel like you're staying at a hotel, these thoughtful details help craft an experience that's equal parts comforting and inviting.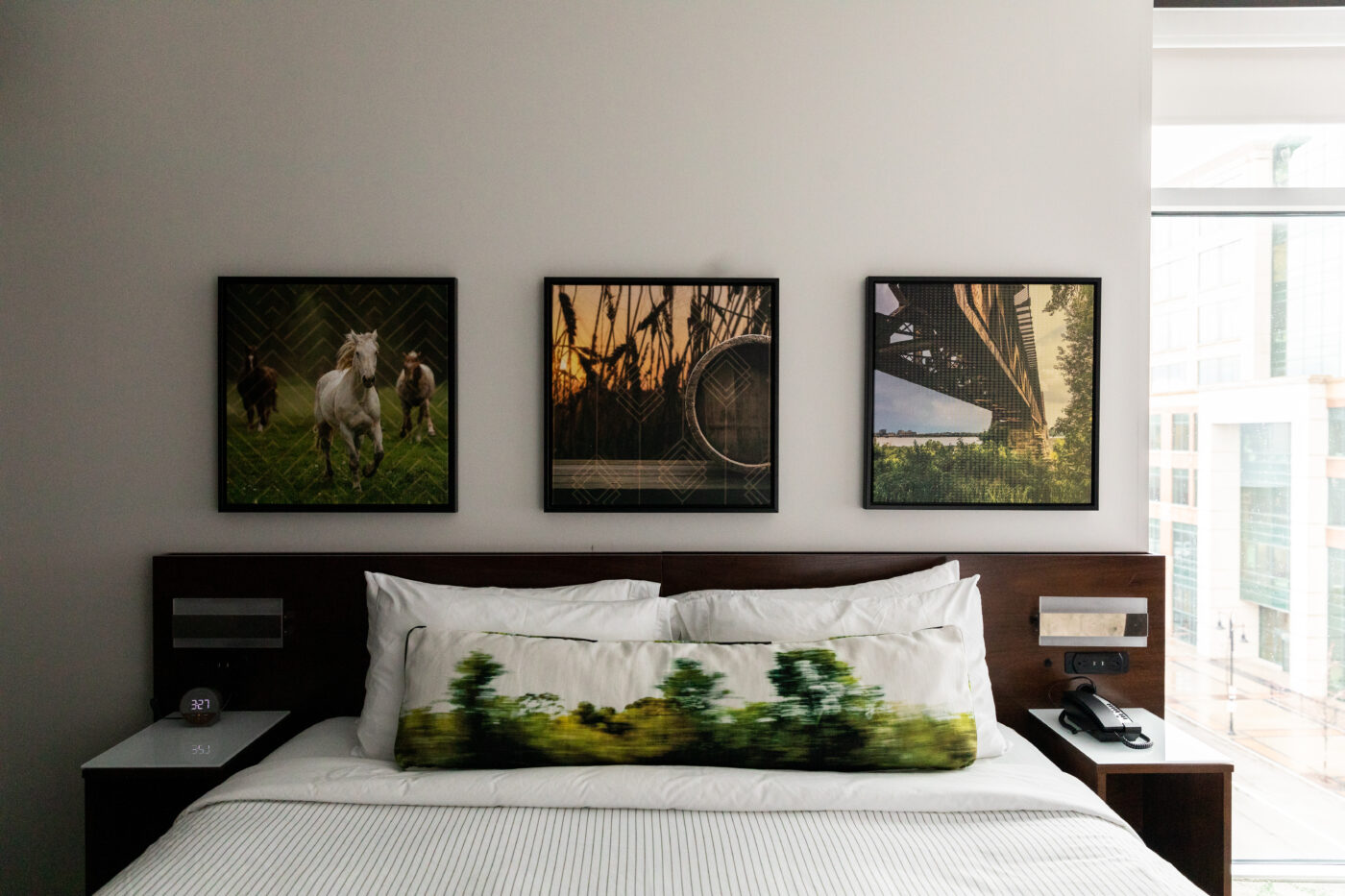 The hotel features two on-site restaurants: The Jackdaw Coffee & Bourbon Bar, which features modern Irish flavors and fusions, and Magnum Moon Hayloft Bar & Grill, serving freshly made American fare, local craft beer, wine and specialty cocktails, local Kentucky Bourbon, as well as convenient to-go options. 
Not to mention, with the majority of the city's best spots to eat, drink, and be merry within walking distance of this hotel, a weekend to remember is as simple as stepping out the front door and following the sounds of revelry. Make the quick hop across the street to enjoy brunch at Wild Eggs. Round the next corner to visit Angel's Envy for a bourbon tasting and snag an outdoor table at Against the Grain for a lunch to remember. 
Ready to lace up those walking shoes and take it a bit further? The thriving and ever-growing NuLu neighborhood is a quick 10-15 minute walk away, and there's something to keep just about everyone busy. Stop in Please & Thank You for your caffeine fix before strolling along the shop-lined streets and taking in the sights and sounds of our growing city. Pull up a chair at West Sixth NuLu to take full advantage of the sun on those cloudless days and enjoy a flight of locally-crafted beers sure to whet every whistle.
Needless to say, whether you're a local taking a much needed staycation (100% support this decision) or an out-of-towner visiting the River City, you'd be hard pressed to find a better location to lay your head.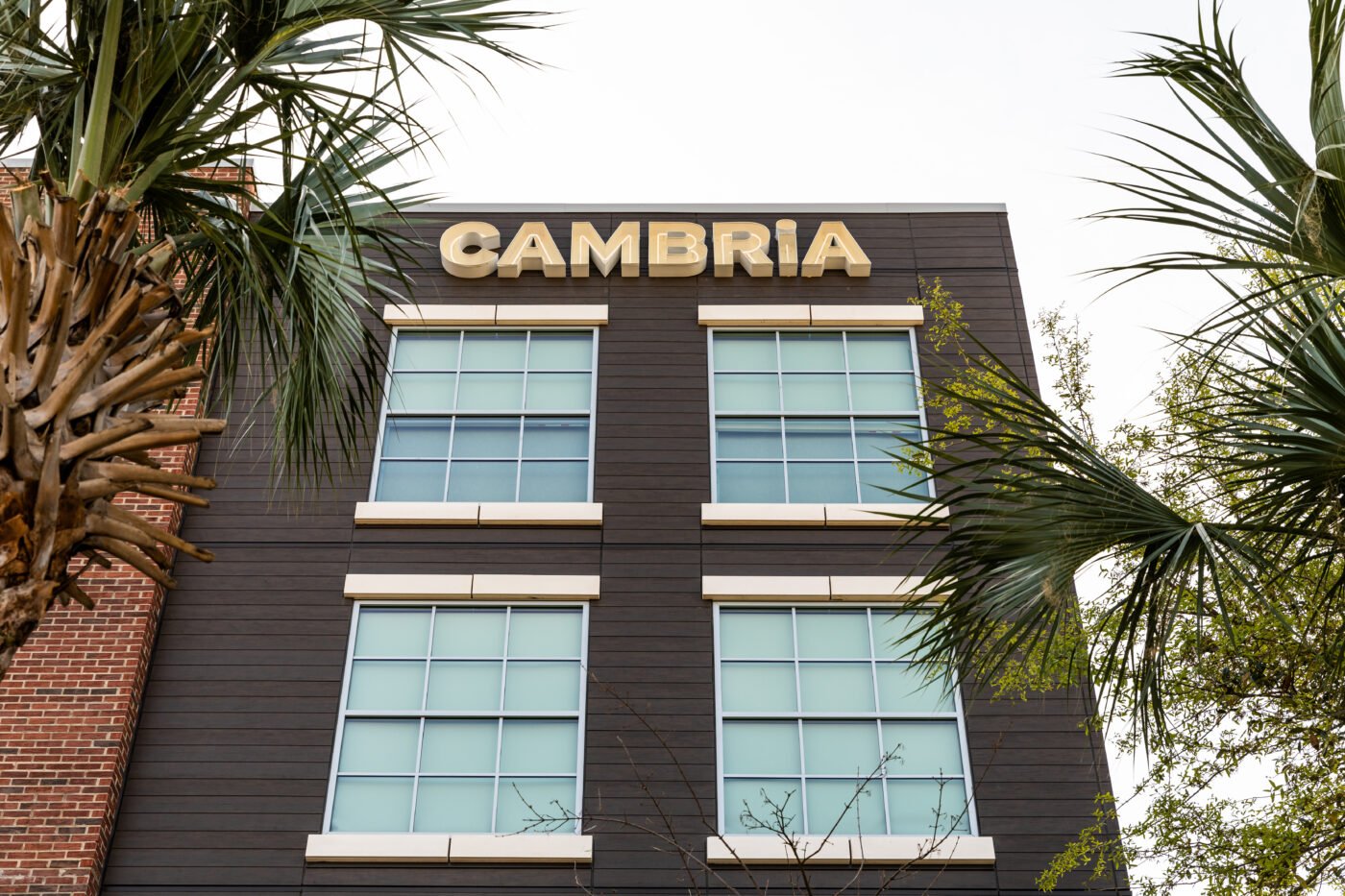 Where to Stay and Play in Columbia, SC
Oddly (or not) enough, both times that I've visited Columbia, South Carolina, I've had the distinct pleasure of staying at Cambria Hotel Columbia Downtown the Vista which is situated in center-city Columbia and positions guests in the heart of the capital's premier arts and entertainment district.
Not only is the location perfect for a weekend of exploring, the staff is also incredibly welcoming and friendly. So much so that a few of them even remembered when I had visited last time around, which at that point had been several months out. When you travel for work as often as I do, it's the little things that really add up and make a lasting impression.
The property features locally inspired design and décor, reflecting the unique personality of the surrounding community, including artwork from local artists that celebrates the rich history of the textile industry in Columbia. From art installations in the main lobby to impressive woodworks in the guest rooms, the charm of the city is woven into the fabric of the hotel through and through.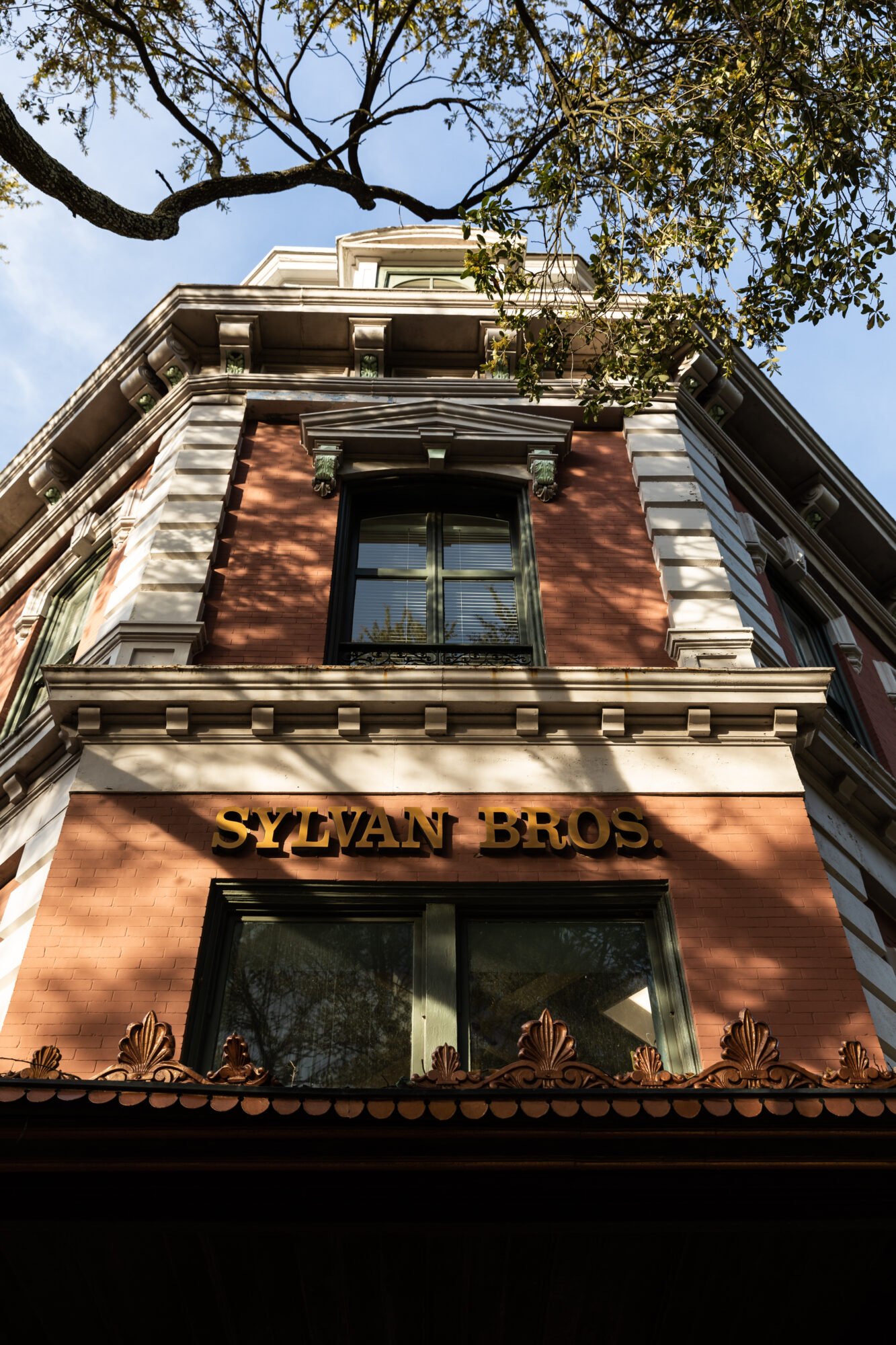 On-site restaurant, Park & Lady, offers American comfort food made using fresh, local ingredients perfect for fueling up before exploring or unwinding after a long day.
My favorite amenity of the hotel though? Location, location, location. On both of my visits to the Heart of SC I've been blessed with lovely weather that allowed me to walk to just about everywhere I needed to be. From breakfast and bakery hotspot smallSUGAR to some of the best food I've ever had at Smoked, the hotel's prime location made seeing the city so incredibly easy and enjoyable.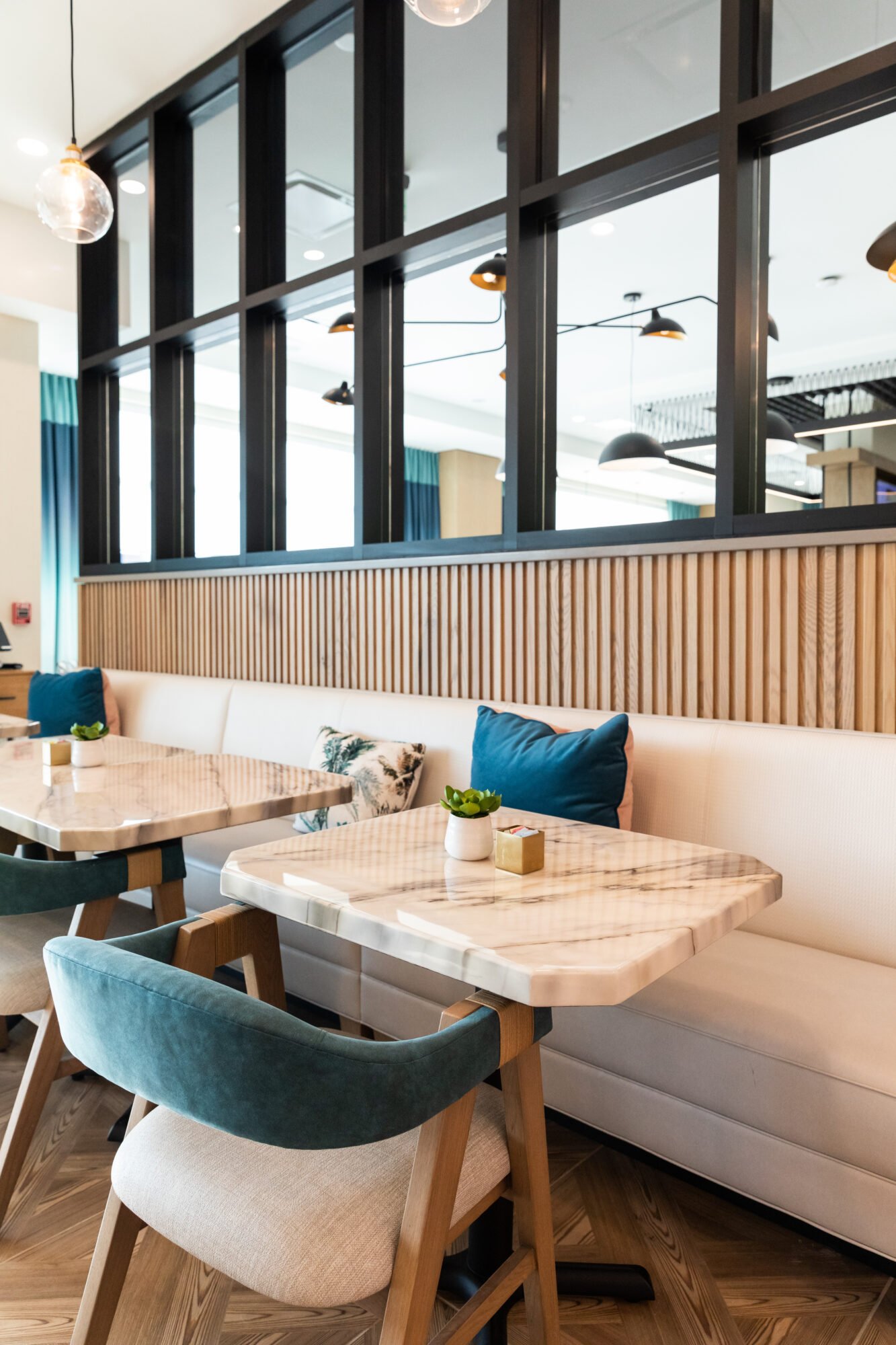 Plan Your Cambria Hotels Stay
As you can see, Cambria Hotels offer the perfect solution for a wide variety of travelers, especially those focused on immersing themselves in the local culture without sacrificing the comforts of home.
Cambria enables guests to make the most of their business and leisure travel with central locations near businesses, dining, entertainment and cultural experiences —all while encouraging them to enjoy approachable indulgences.