This shop has been compensated by Collective Bias, Inc. and its advertiser. All opinions are mine alone. #PurexCrystalFresh #CollectiveBias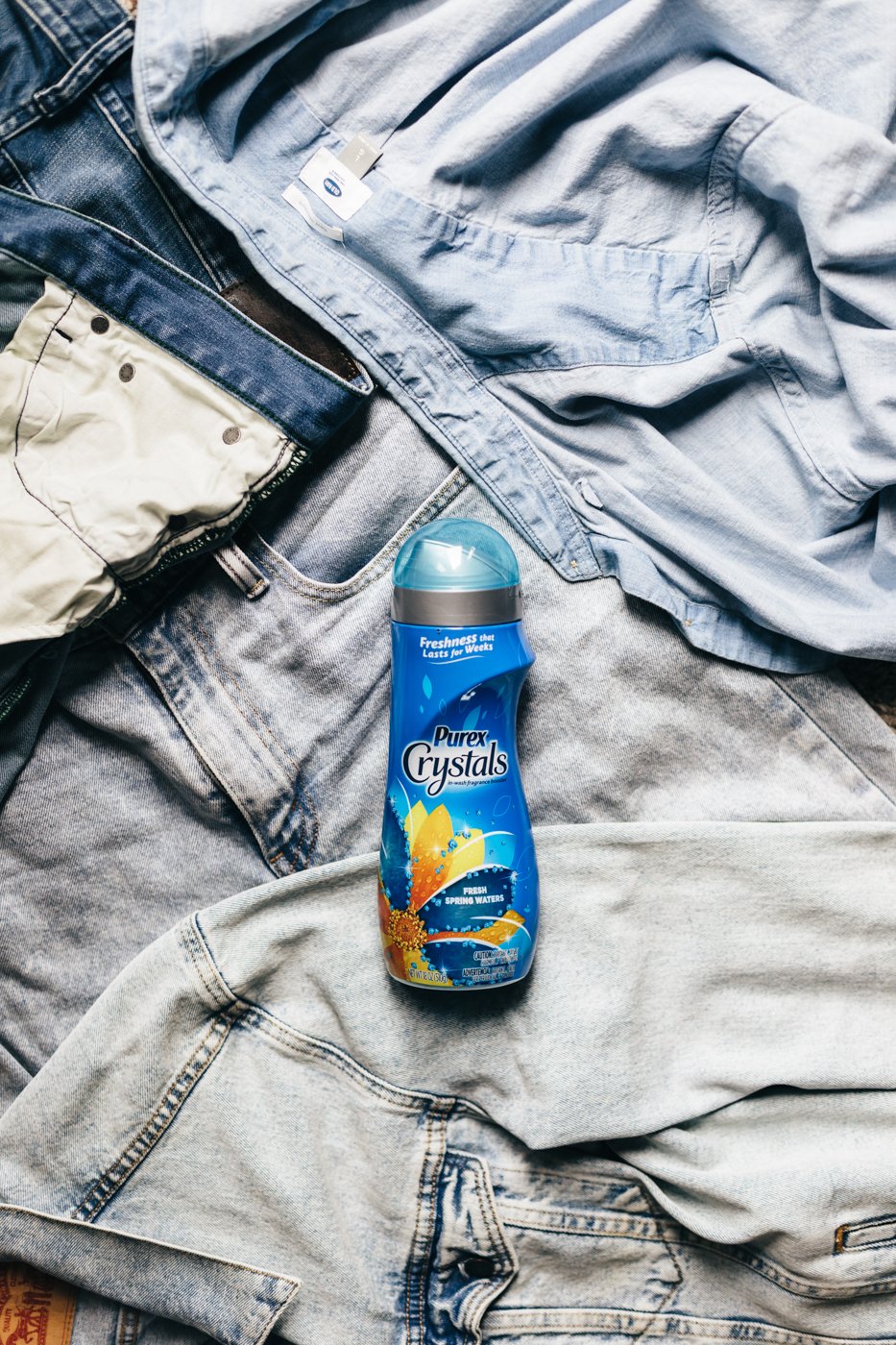 It's no secret that I'm a big fan of denim. In literally every form. From denim jackets to chambray shirts and everything in between. And over the years I've found a way or two to keep them looking their best, even after several washes. Because after all, they are an internal part of my wardrobe, and more often than not I wear them day in and day out. Meaning that I wear them for long stints at a time without washing. Why? Because I'm a firm believer in denim being 100x better when it's lived in.
My secret to keeping them smelling their best, even after a week or two of wear? Purex® Crystals. You're probably asking yourself how that is, and if that's the case, then today's your lucky day. Because I'm here to break it down for y'all. They provide up to 12 weeks of freshness with each wash. Meaning they're perfect for every facet of your laundry routine. Because who doesn't want clean, white sheets that smell like Fresh Spring Waters, even in between washes?!
When it's laundry day around my house I always go about it the same exact way and usually wash all my denim in the same load. Why? Because it's honestly just easier that way for me. One and done. Especially since I follow the same pattern for every piece of denim in my wardrobe. And I've outlined all of them for you below.
Spot treat
Turn inside out
Wash in cold water
Remove promptly from washing machine
Turn right side out
Hang to dry
DENIM CARE TIPS:
Always, always, always wash your denim inside out!
Wash in cold water
Hang to dry
All my years in retail paid off, after all. And now I'm happy to share the wealth with y'all! Washing your denim inside out and in cold water helps to keep the colors looking their best and minimizes fade. Especially important for any fancy washes you may have in your closet and/or dark jeans! And Purex Crystals provide a great scent at a great price! I picked mine up at my local Kroger, but they're also available at most major retailers! Learn more about Purex Fresh Crystals, and how they can keep your whole house smelling its absolute best with these videos. And while you're at it, keep up with all things Purex on Facebook and Instagram.