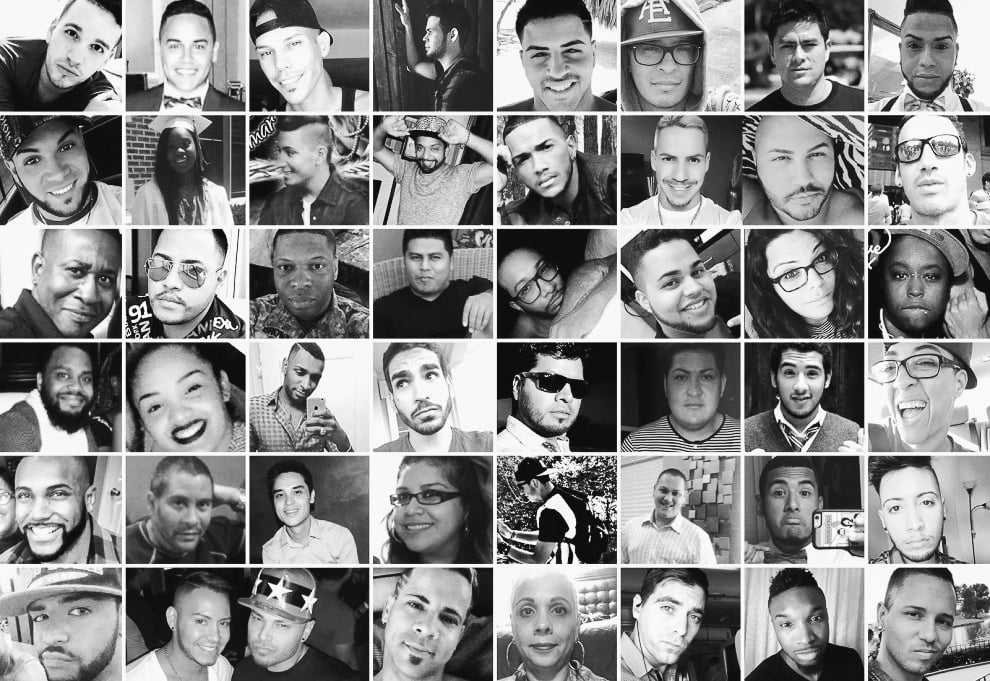 I don't want to be sitting here writing this, but somehow, always in the back of my head, I knew I'd be sitting here writing this.
Sunday's news hit me like a ton of bricks.
I've been a mix of emotions that last couple of days. Sad. Angry. Mad. Hopeful. But most of all sad. Sad that with as far as we have come as a society senseless acts of violence like this still happen and happen too often – still.
Sad that we're losing site of the bigger picture. Sad that we're arguing over why the shooter did what he did. Sad that we're having to plead our case to our straight neighbors. Sad that we have to explain to them WHY we're holding candlelight vigils for our fallen brothers and sisters. Sad that we have to be having this conversation at all.
Sad that what was once a safe haven for people of all walks of life has been marred by this weekend's events. Sad that we have to explain why gay bars became our safe havens.
Well before I turned 21 (we're talking like 17/18 here) I was sneaking into gay bars almost every weekend. Not with the sole purpose of getting drunk or finding the love of my life, but to find people that were like me.
Because as a 17 year old gay man in rural Indiana I was the only gay person I knew. The friends I tried to talk about my struggles, my sexuality, and my feelings were the same friends that would run and tell my parents, my ministers, and the entire church that I was "still gay".
The friends I met at the gay bars though? Those friends didn't even know me. Didn't know my story. But they welcomed me with open arms regardless. They opened their homes to me. They set places for me at their Thanksgiving and Christmas dinners when I wasn't welcome at own home.
They were there when I needed a shoulder to cry on, or to attempt to give me advice (which I never listened t0) about whatever guy I was having issues with at the time. They slowly but surely became the family that I wasn't sure I'd ever have again.
Friends that I wouldn't be here typing this today without. Friends that became family. Friends that saved me from dark place I found myself in after coming out at 14. Friends that saved my life. Friends that made gay bars safe havens.
Friends just like the ones we lost on Saturday night. Friends that may have had their lights snuffed too early, but friends that will never be forgotten.
Much like the church to Christians is the people inside of it, not the building itself, the gay bar in our community is the network of friends that have become a family that never knew we'd have.
This post is in honor of all the members of our church that didn't realize this was their last weekend to worship.
Amanda Alvear, 25 years old

Oscar A Aracena-Montero, 26 years old

Rodolfo Ayala-Ayala, 33 years old

Antonio Davon Brown, 29 years old

Darryl Roman Burt II, 29 years old

Angel L. Candelario-Padro, 28 years old

Juan Chevez-Martinez, 25 years old

Luis Daniel Conde, 39 years old

Cory James Connell, 21 years old

Tevin Eugene Crosby, 25 years old

Deonka Deidra Drayton, 32 years old

Simon Adrian Carrillo Fernandez, 31 years old

Leroy Valentin Fernandez, 25 years old

Mercedez Marisol Flores, 26 years old

Peter O. Gonzalez-Cruz, 22 years old

Juan Ramon Guerrero, 22 years old

Paul Terrell Henry, 41 years old

Frank Hernandez, 27 years old

Miguel Angel Honorato, 30 years old

Javier Jorge-Reyes, 40 years old

Jason Benjamin Josaphat, 19 years old

Eddie Jamoldroy Justice, 30 years old

Anthony Luis Laureanodisla, 25 years old

Christopher Andrew Leinonen, 32 years old

Alejandro Barrios Martinez, 21 years old

Brenda Lee Marquez McCool, 49 years old

Gilberto Ramon Silva Menendez, 25 years old

Kimberly Morris, 37 years old

Akyra Monet Murray, 18 years old

Luis Omar Ocasio-Capo, 20 years old

Geraldo A. Ortiz-Jimenez, 25 years old

Eric Ivan Ortiz-Rivera, 36 years old

Joel Rayon Paniagua, 32 years old

Jean Carlos Mendez Perez, 35 years old

Enrique L. Rios, Jr., 25 years old

Jean C. Nives Rodriguez, 27 years old

Xavier Emmanuel Serrano Rosado, 35 years old

Christopher Joseph Sanfeliz, 24 years old

Yilmary Rodriguez Solivan, 24 years old

Edward Sotomayor Jr., 34 years old

Shane Evan Tomlinson, 33 years old

Martin Benitez Torres, 33 years old

Jonathan Antonio Camuy Vega, 24 years old

Juan P. Rivera Velazquez, 37 years old

Luis S. Vielma, 22 years old

Franky Jimmy Dejesus Velazquez, 50 years old

Luis Daniel Wilson-Leon, 37 years old

Jerald Arthur Wright, 31 years old