Let me start by saying that yesterday I encountered an issue that I never in one million years imagined I'd run into. A brand used a photo of mine, without credit or permission, to run a paid advertisement. It was running for 4 weeks before I realized what was going on, and that was 100% by happenstance.
Come to find out, I'm not the first person in my friend group to have this happen to them. Regramming or reposting without credit is one thing (that I often overlook, even though I shouldn't), but I'm putting my foot down on this one since they used my work to make a profit for their business.
Point of me bringing this up is that you need to be really, really careful what images you repost, regram, or share. Always be sure to check Terms of Use on a website that you want to share a photo from to see if they're a) okay with and b) to see what their requirements for that are. Some photos that I share from a site only allow one image to be shared, any after that will incur a fee. Some (like mine) are 100% with you sharing as many as you'd like as long as they are NOT for profit. If you're selling your brand/restaurant/business with photos that I took then I need to be properly compensated for that.
Case in point: this photo is from East Dane's site, but I'm using it to drive business to their site, not my personal site, and it's stipulated in their Conditions of Use allows users to "personal and non-commercial use of the BOP Services." I'm also an affiliate within their network with RewardStyle, so while I may receive a commission from all sales made on their site during a 30 day frame – I only do so if they make the actual sale. I'm acting as an added value to their brand, not using their work to personally profit. Make sense?
But back to the matter at hand, the latest East Dane sale. It's the perfect excuse to stock up on any/all things that you may need/want for the upcoming season. Why? Because it's one of those spend more, save more kind of events. What are you waiting for, click on any of the photos below to start shopping.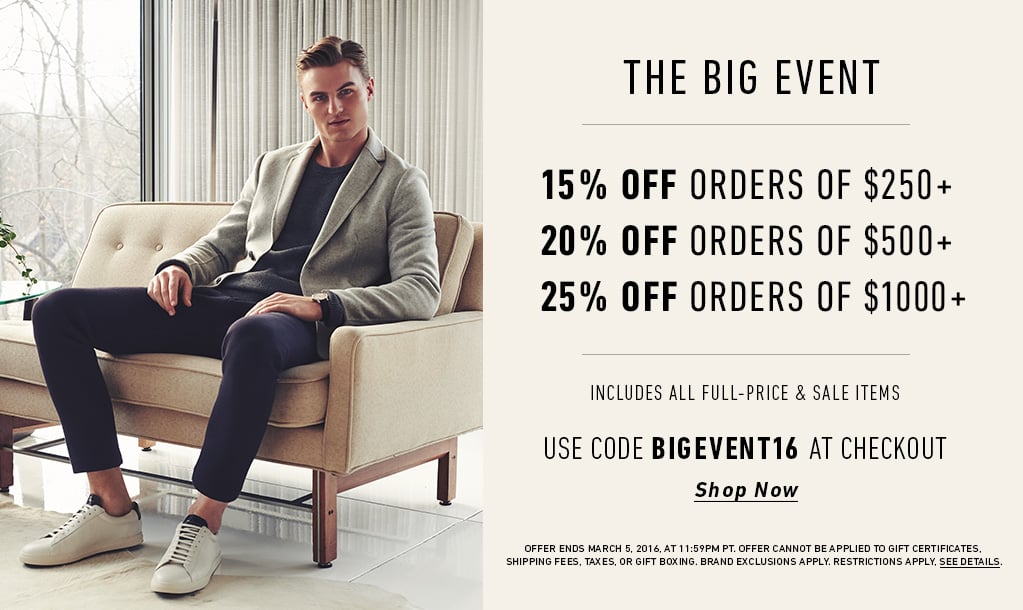 But before you go.. Like what you see?