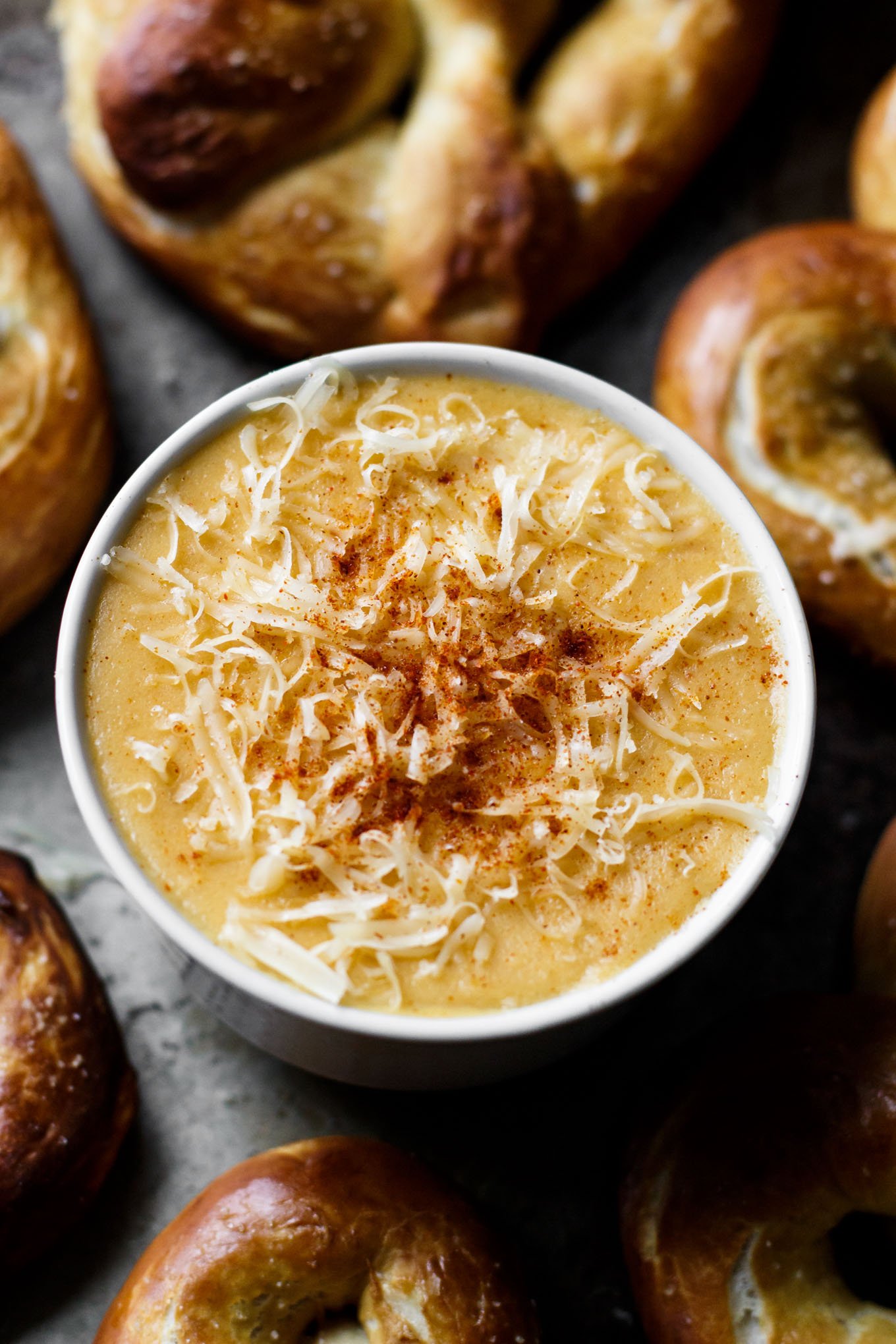 Feels like just yesterday that I was celebrating National Beer Day (which happens to be every April 7th!) with these Shock Top Cupcakes, and I'm back this year with another equally as delicious recipe. While the cupcakes were a hit last year, and I always love an excuse to chow down on something sweet – this year's recipe is one that is best enjoyed with a cold brew.
I don't know about y'all, but this was my first time making pretzels or beer cheese period, let alone from scratch. Looking back I don't know if I would've been so ambitious from the jump seeing as how my kitchen is still not fully recovered from my adventures in the kitchen yesterday, BUT I'm also glad that I did because both turned out better than expected.
Also cause I have this weird satisfaction when I make things from scratch and they turn out edible. Hoorah for kitchen science, the only kind of science that ever made any sort of sense to me.
The hardest part about the recipe is (without a doubt) making the pretzels. If you can heat up beer on a stove and add cheese until it's melted you're going to be a pro at making beer cheese. Pretzels on the other hand.. take some getting used to.
If you have a stand mixer you're going to want to whip that bad boy out, and if you don't then now's the perfect time to invest in one. Seriously though, it was the best present I ever received.
Other than that, patience is a virtue here. Make sure you've kneaded the dough for at least 4-5 minutes to activate the gluten in the dough. You'll also need to let the dough rest and rise for at least an hour after you've completed the dough. So while it's not incredibly complicated it's a time commitment.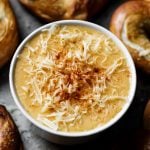 Smoked Gouda Beer Cheese
---
Pretzels
1 ½ cups

hot water

1 tbsp

. sugar

2 tsp

. kosher salt

1

packet active dry yeast

4 ½ cups

all purpose flour

4 tbsp

. melted unsalted butter

10 cups

water

2/3 cup

baking soda

1

egg yolk +

1 tbsp

. water
Granulated sea salt
Beer Cheese
12 oz

. Goose Island IPA

6 oz

. evaporated milk

1 tbsp

. Dijon mustard

1 tbsp

. Worcestershire sauce

2 tbsp

. cornstarch

2 cups

smoked gouda cheese

2 cups

sharp cheddar cheese
Salt
---
Instructions
Pretzels
Combine 1 ½ cups hot water, sugar, and kosher salt in bowl of a stand mixer, whisk to combine.
Sprinkle packet of dry yeast over mixture in bowl and let yeast activate for at least 5 minutes, or until it begins to foam.
Add flour and butter, and using the dough hook attachment, mix on a slow speed until thoroughly combined and dough begins to stick to the hook.
Then turn speed up to medium and continue mixing for 4-5 minutes.
Remove dough, coat bowl with vegetable oil before returning dough to bowl.
Cover and let rest for at least an hour.
Coat two baking sheets with non-stick spray.
Preheat oven to 450 degrees.
Bring 10 cups of water + 2/3 cup of baking soda to boil.
Once dough has doubled in size transfer to slightly oiled work surface and divide into 8 equals segments.
Using your fist pound each segment into a rectangle and roll them into a rod shape.
Continue rolling each segment until you've reached your desired size then shape into a U, grab and twist ends, and fold inward.
Using a slotted spatula transfer pretzels to the baking soda + water mixture for 30 seconds, transfer to wire rack to dry, continue until complete.
Whisk egg yolk + 1 tbsp. water and then brush surface of pretzels before dusting with granulated sea salt.
Transfer pretzels to prepared baking sheets.
Bake for 12-14 minutes, rotating completely after 7 minutes.
Beer Cheese
Combine beer, milk, mustard, and Worcestershire sauce in a medium saucepan over medium heat, stirring regularly.
Continue warming until steam begins to roll.
Slowly add in cheese and stir until combine and melted throughout.
Salt to taste and serve immediately.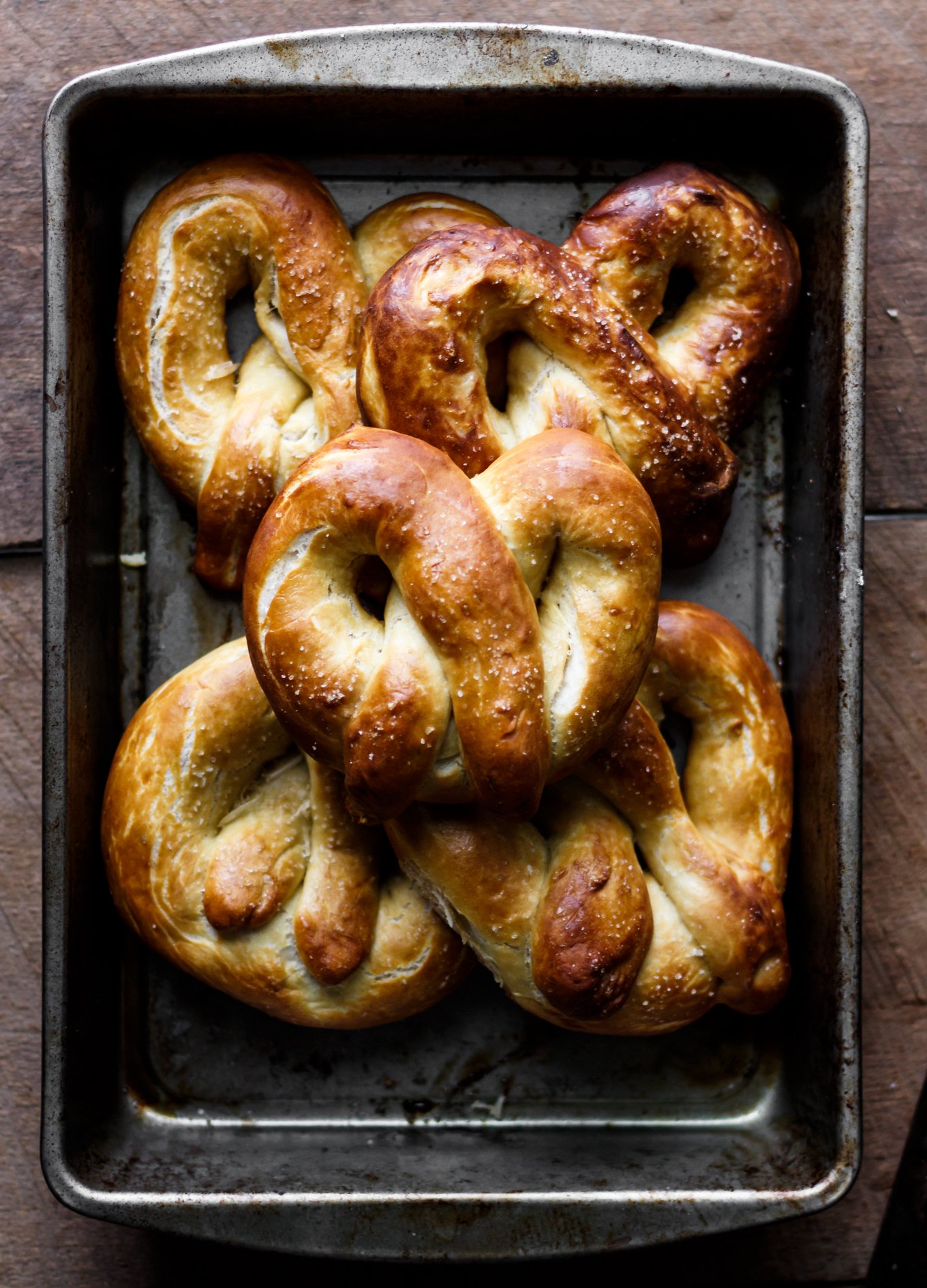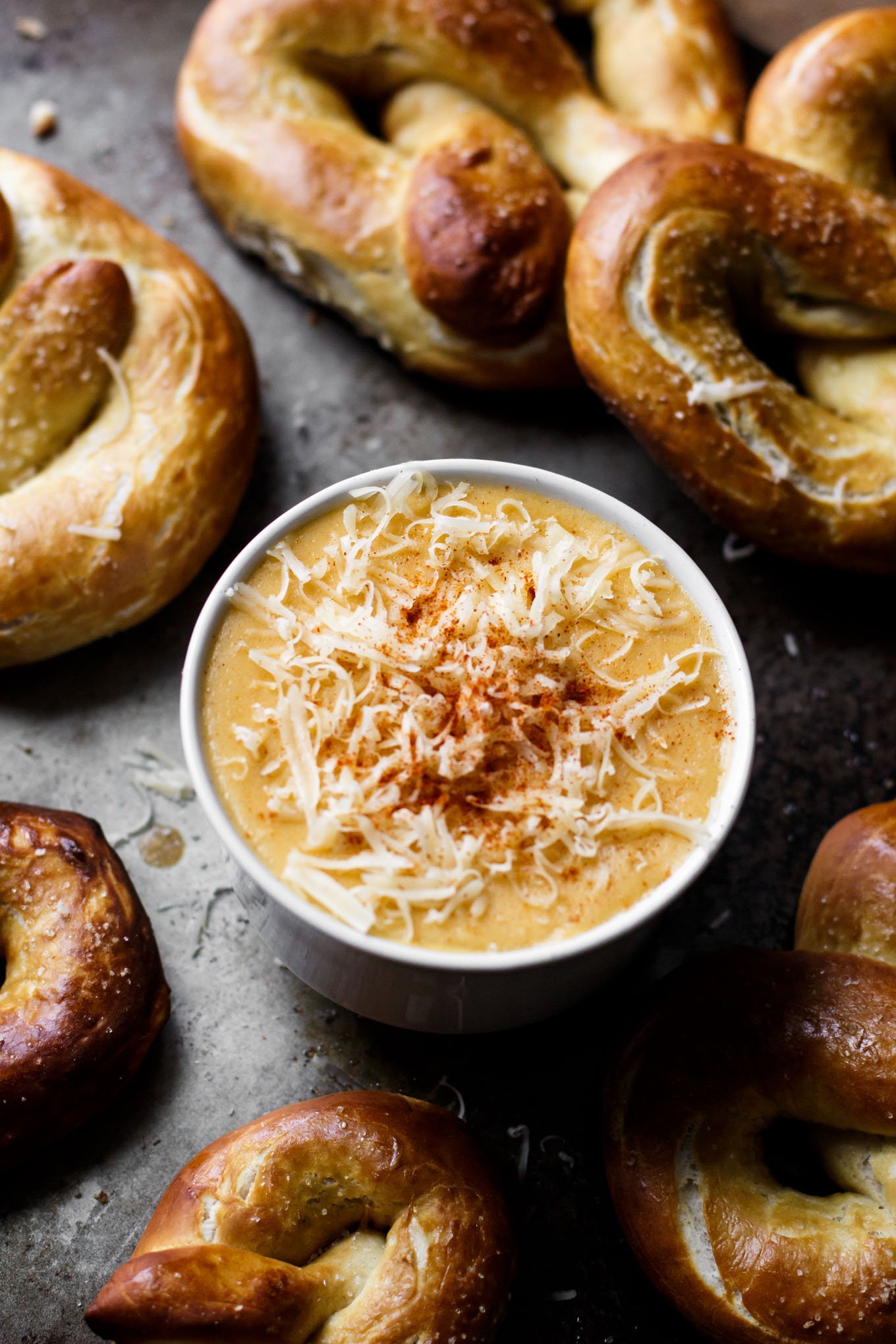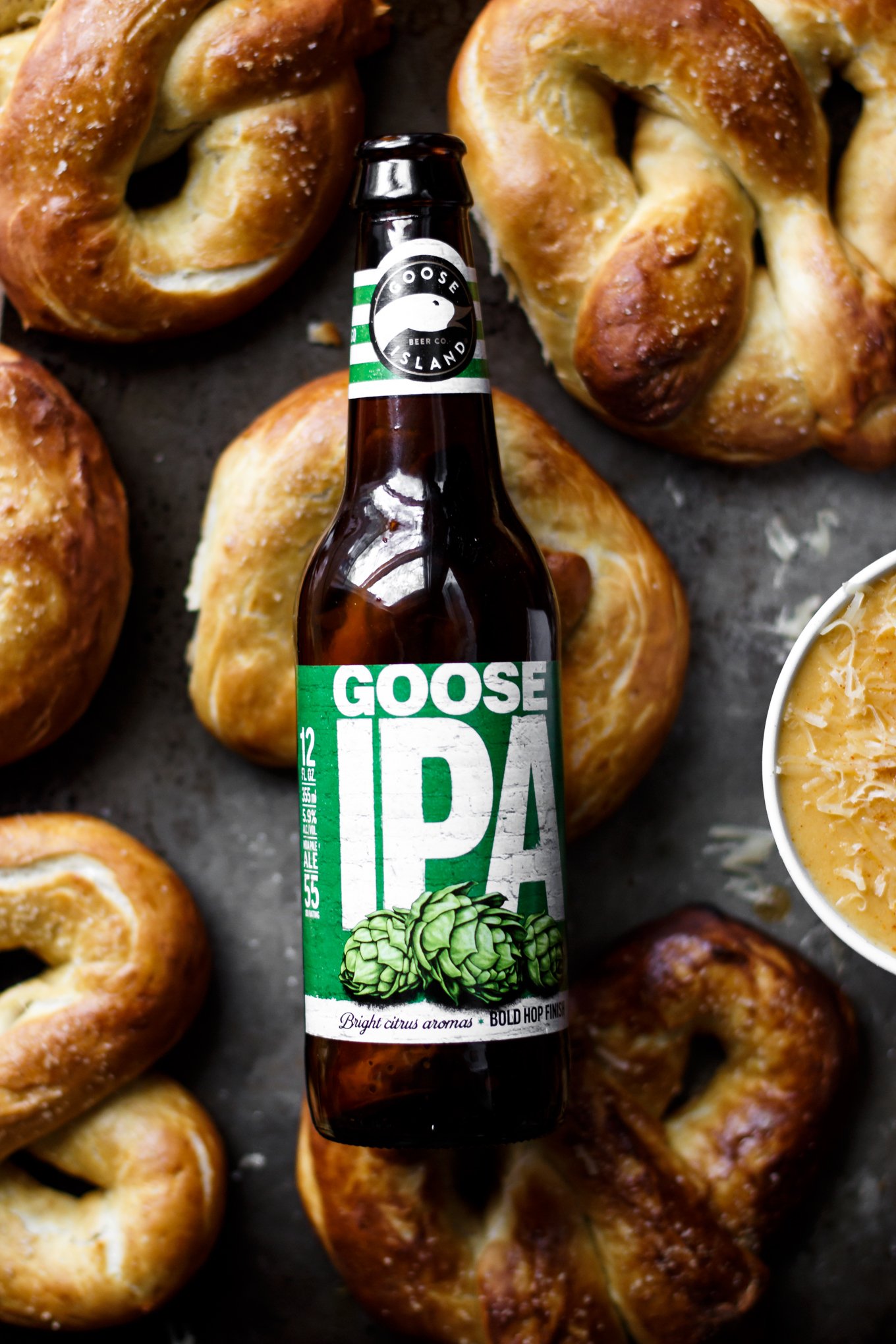 Now for some fun facts as we celebrate National Beer Day..
In 2015 Americans spent $33.6 billion and bought 1.5 billion cases of beer.
The majority of working Americans 21+ and nearly three out of four Millenials (72%) would like their work to close early in celebration of National Beer Day this year.
Beer is a more popular choice amongst Millennials (55%) than mixed drinks (35%), wine (30%), vodka (27%), whisky (24%), champagne/Prosecco (19%), gin (8%), tequila (1%), and rum (0%).
Lagers are America's most popular beer style, with most Midwestern and Southern states overwhelming choose lager as their beer of choice – they actually make up more than 80% of all beer sold by volume.
How are y'all celebrating? Other than chowing down on some homemade pretzels and beer cheese – obviously.
Disclosure: This post is sponsored by LetsGrabA.Beer, but as always, all thoughts and opinions are my own.
Food Photography by Josh Johnson
Before you go.. Like what you see?