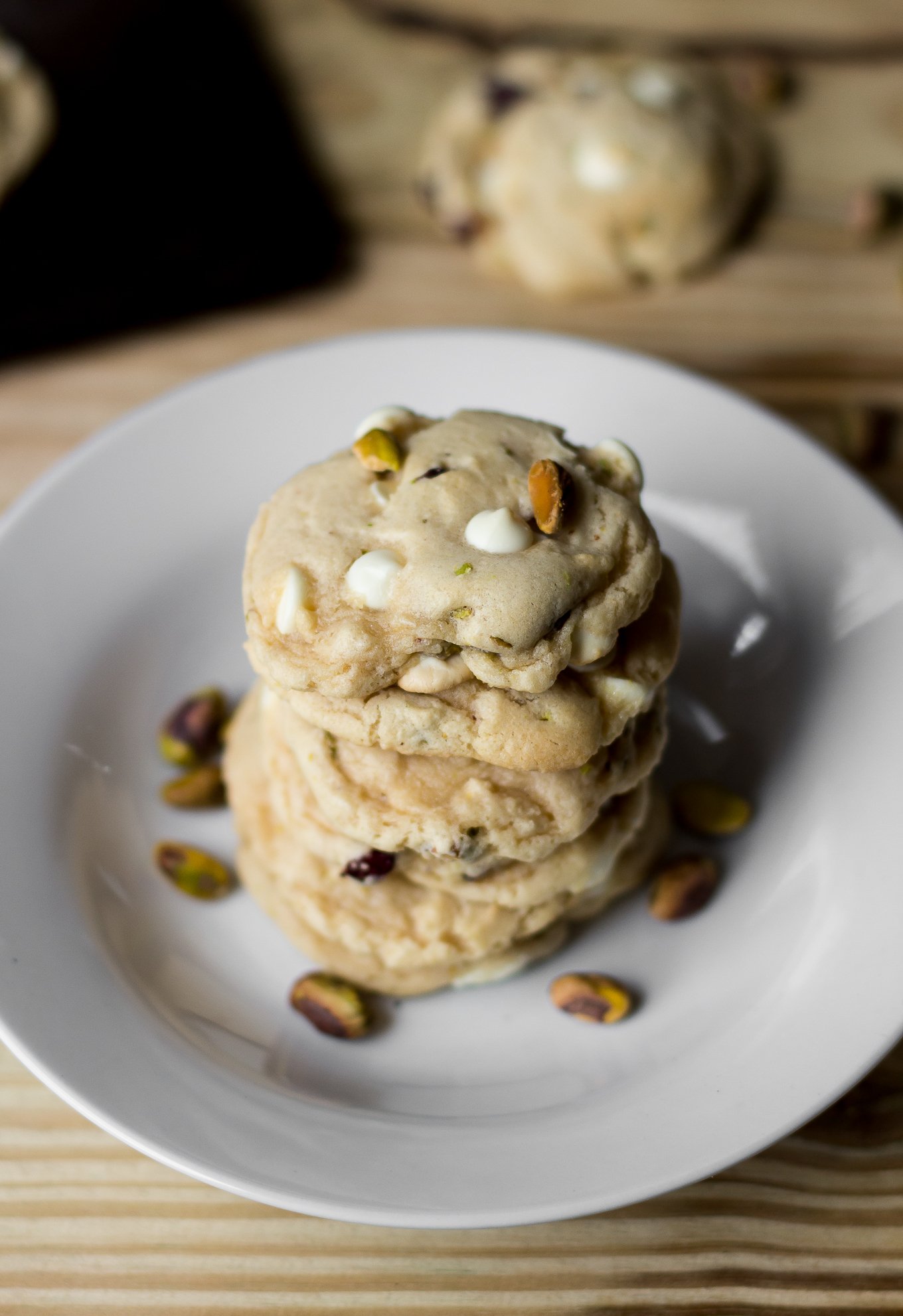 We've officially made it through another week and practically another month. Who else can't believe that February is already over? I feel like just yesterday we were ringing in 2016, and now we're welcoming the third month of the year. Taxes are due in just a few weeks, yikes, but on the bright side summer is getting closer and closer and the days are getting longer and longer. Let's celebrate that by chowing down on some delicious Cranberry White Chocolate Chip Pistachio Cookies, shall we?
Not that I ever really need a reason to eat cookies, but today does happen to be National Pistachio Day – so it's meant to be. These cookies are the perfect mix of sweet and salty with a nice crunch, and they may/may not knock my Chocolate Chip Cookies down a peg or two as my favorite cookies to bake.
Best part about them? They can easily be tweaked to suit your needs, wants, and desires. Wanting a crunchier cookie? Add more nuts. Want a sweeter cookie? Up the white chocolate chips. The options are endless.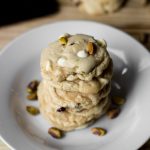 Cranberry White Chocolate Chip Pistachio Cookies
---
3/4 cup

unsalted butter (melted)

1 cup

granulated sugar

3/4

light brown sugar

2

large eggs

2 tsp

. vanilla

3 cups

flour

2 tsp

. cornstarch

1 1/2 tsp

. baking soda

1/2 tsp

. salt

1 cup

white chocolate chips

1 cup

dried cranberries

1/2 cup

chopped pistachios
---
Instructions
Melt butter in microwave in 10 second increments until fully dissolved.
Combine all dry ingredients in medium mixing bowl and whisk to combine, set aside.
Cream butter and sugars for 2 minutes until fully incorporated.
Add eggs one at a time and mix until just combined.
Add 2 tsp. of vanilla.
Gradually fold in flour roughly one cup at a time until dough is slightly tacky.
Add in cranberries, pistachios, and chips and stir with wooden spoon to combine fully.
Wrap dough in plastic wrap and refrigerate for at least 2 hours.
Preheat oven to 350 degrees.
Bake cookies on lined baking sheet for 8-9 minutes, or until barely golden grown.
Let cool on baking sheet for 2 minutes, then transfer to wire racks to cool completely.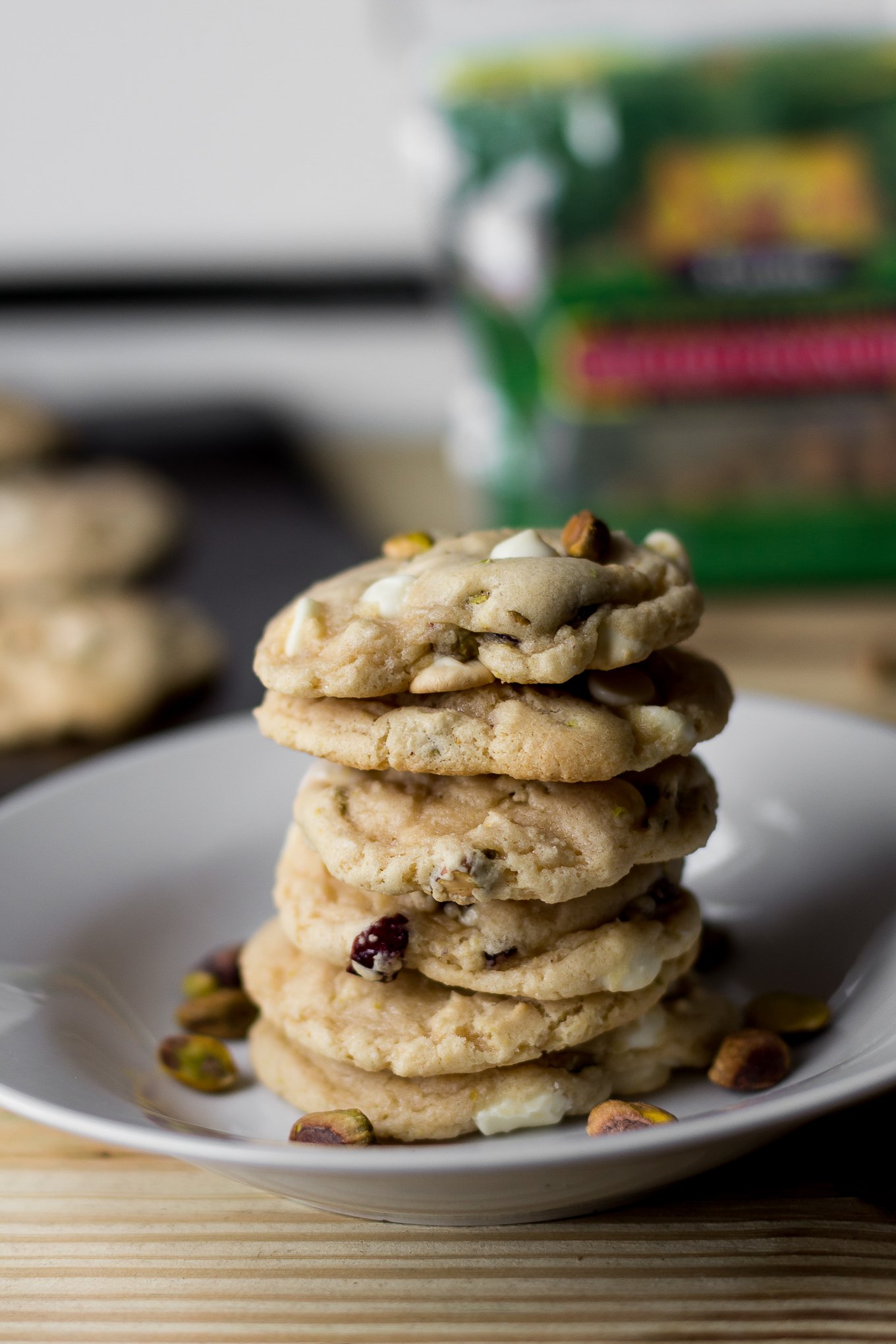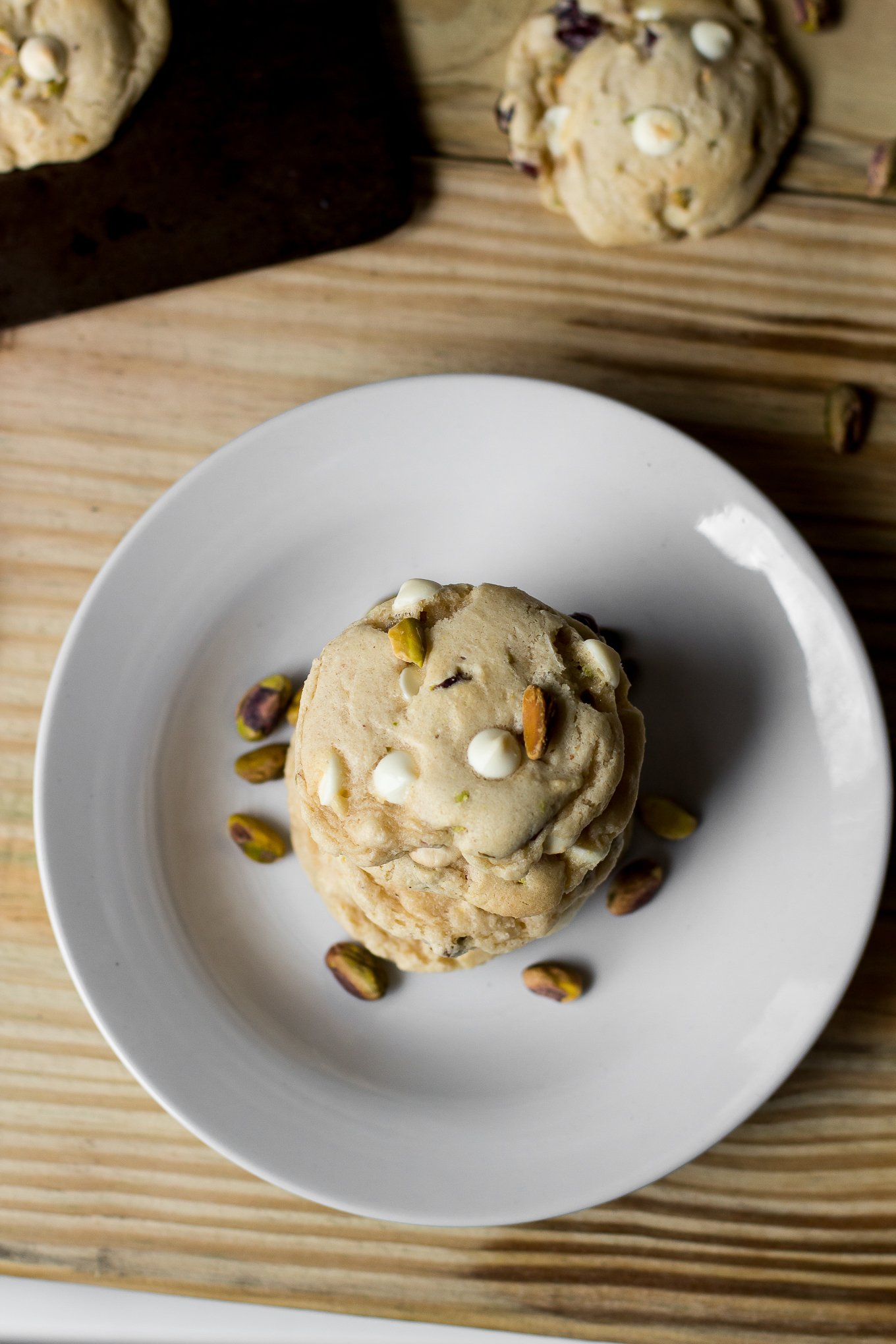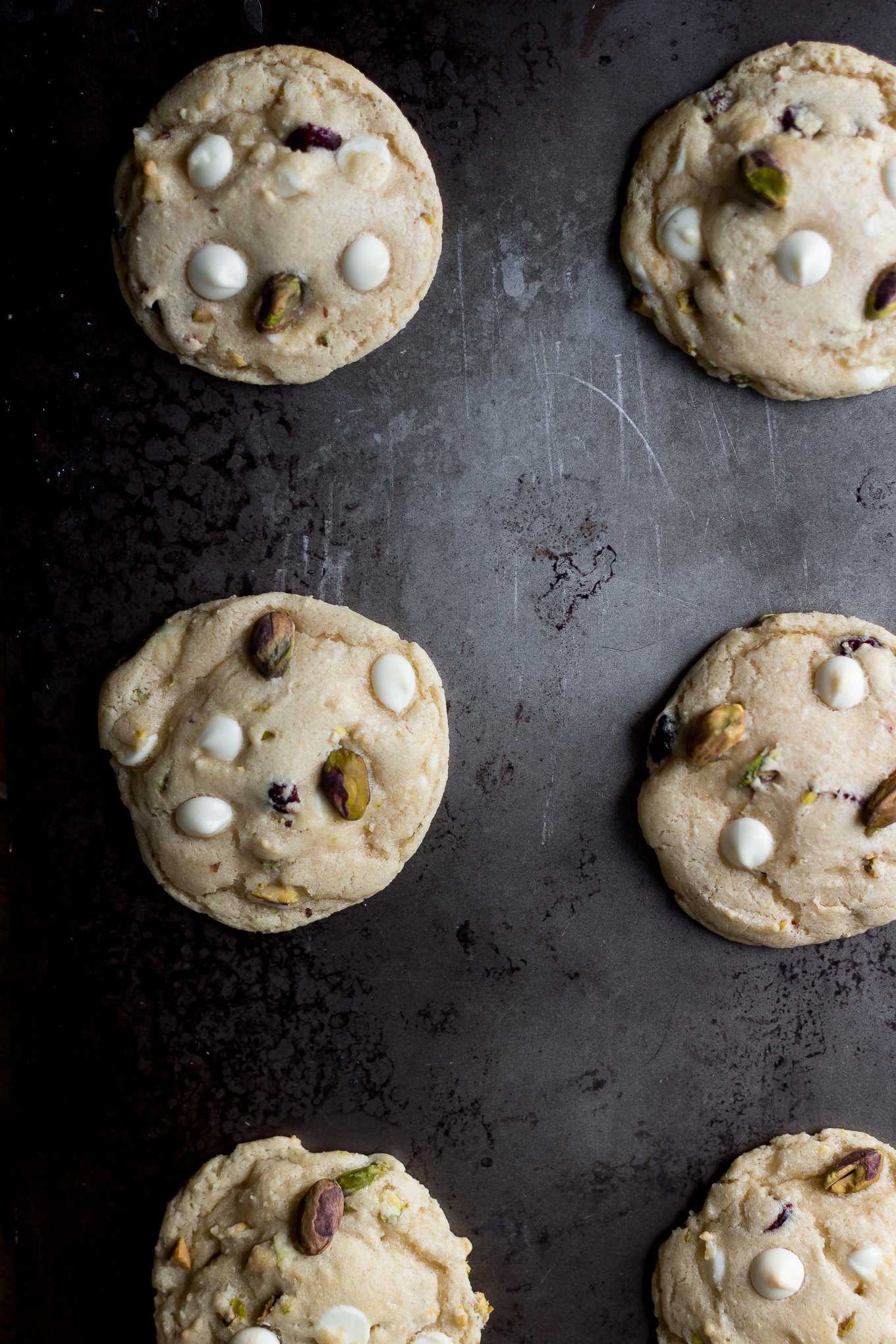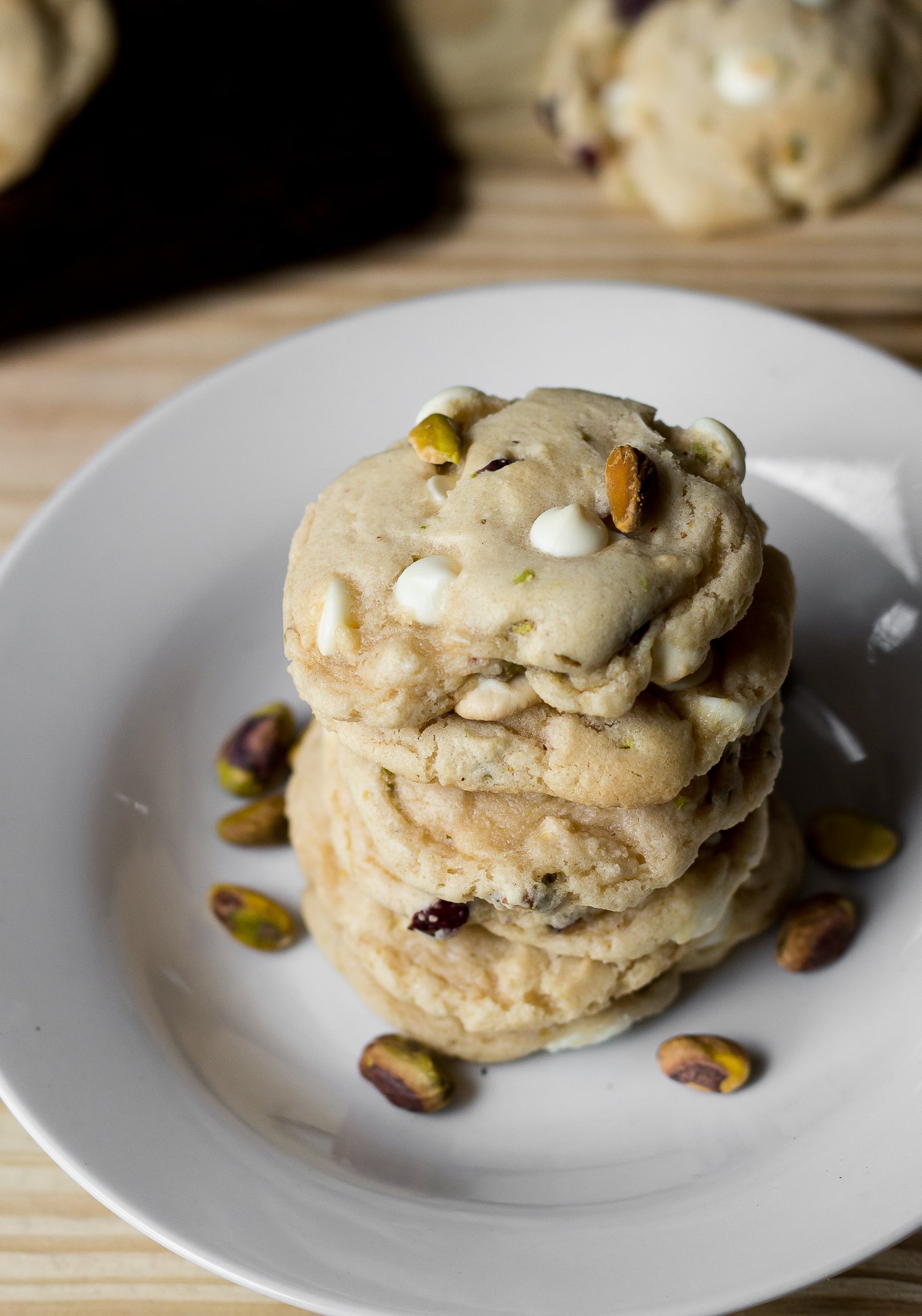 Photos by Josh Johnson
But before you go.. Like what you see?