I'm sharing #SausageFamily in my life as part of a Johnsonville sponsored series for Socialstars™.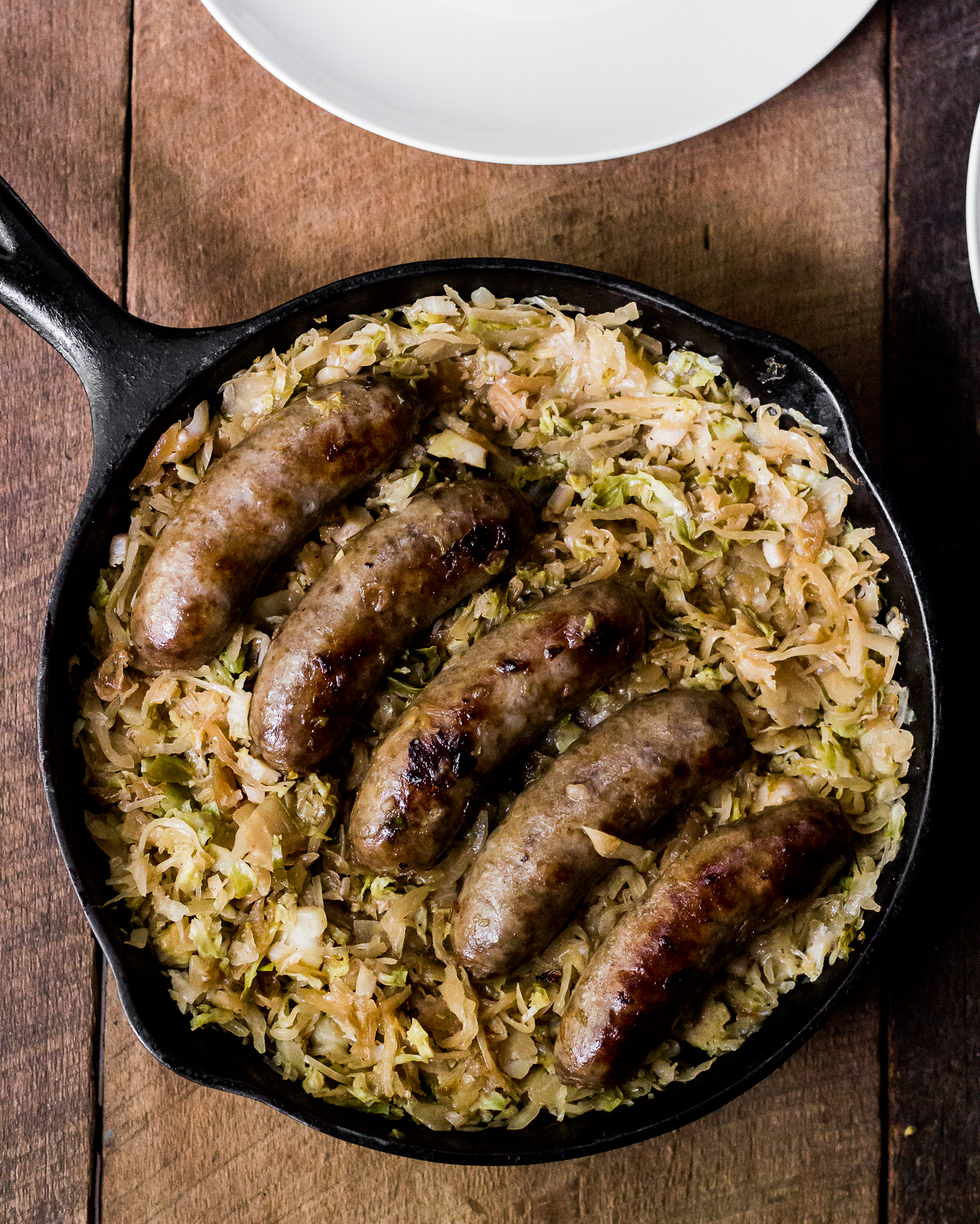 My mom wasn't the biggest cook when I was growing up, mostly because my dad was in the military and there would be some nights that he wouldn't be home from work until well past dinner time, but the one thing that she would cook quite frequently was sauerkraut and pork. When I was younger I hated the stuff and could barely stand the smell, but now? I put sauerkraut on everything.
Originally this post was going to be some legit brats on a bun topped with sauerkraut and spicy mustard, but then I decided to go low-carb for a couple of weeks because my beer belly is seriously out of control – which means no bread for me.
So today I'm putting my spin on something my mom for my dad and I quite often while I was growing up, complete with brats cooked in beer and a sauerkraut and brussels sprouts combo.
Beer Brats and Sauerkraut
---
Beer Brats and Sauerkraut
1

onion, thickly sliced

8 oz

. rye ale

1

lb. Johnsonville bratwurst

3 cups

beef broth

4 tbsp

. butter

2 cups

sauerkraut

2 cups

brussels sprouts, thinly sliced
Mashed Cauliflower
1

large head of cauliflower

2 tbsp

. butter

1/2 cup

. plain almond milk
Salt and pepper to taste
---
Instructions
Brats and Sauerkraut
Combine beer, onions, brussels sprouts and Johnsonville bratwurst in large skillet over medium heat.
Cook for 10 minutes, until beer has reduced and onions are caramelized.
Add beef broth to skillet and bring to boil.
Once boiling, reduce heat to low, cover, and cook for 10 minutes.
Using slotted spoon remove brussels sprouts and bratwursts from pan.
Bring remaining liquid in pan to rolling boil, scraping the bottom frequently, and continue to boil until liquid is reduced.
Once majority of liquid has cooked down, reduce heat, and add butter. Stir with wooden spoon to combine.
Place bratwursts back in pan and allow to cook until browned and crispy on all sides.
Add brussels sprouts and sauerkraut to pan and allow to warm throughout.
Serve on top of mashed cauliflower.
Mashed Cauliflower
While bratwursts are cooking bring 10 cups of water to boil.
Once boiling, add cauliflower to pan and cover, cooking for 10-15 minutes or until florets are able to pierced with fork.
Drain cauliflower and allow to cool.
Once cooled transfer to food processor, add butter, milk, salt, and pepper, and pulse to combine.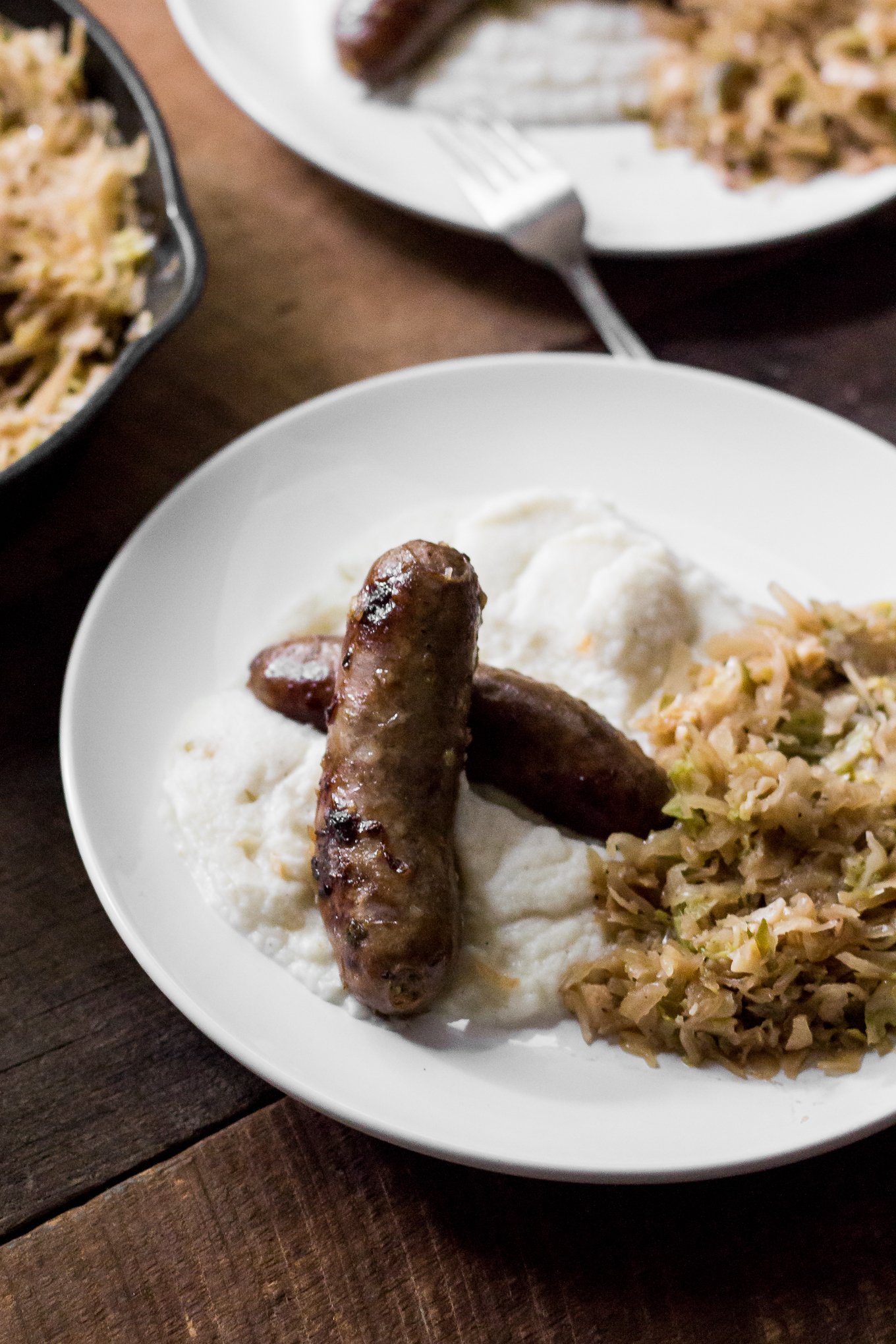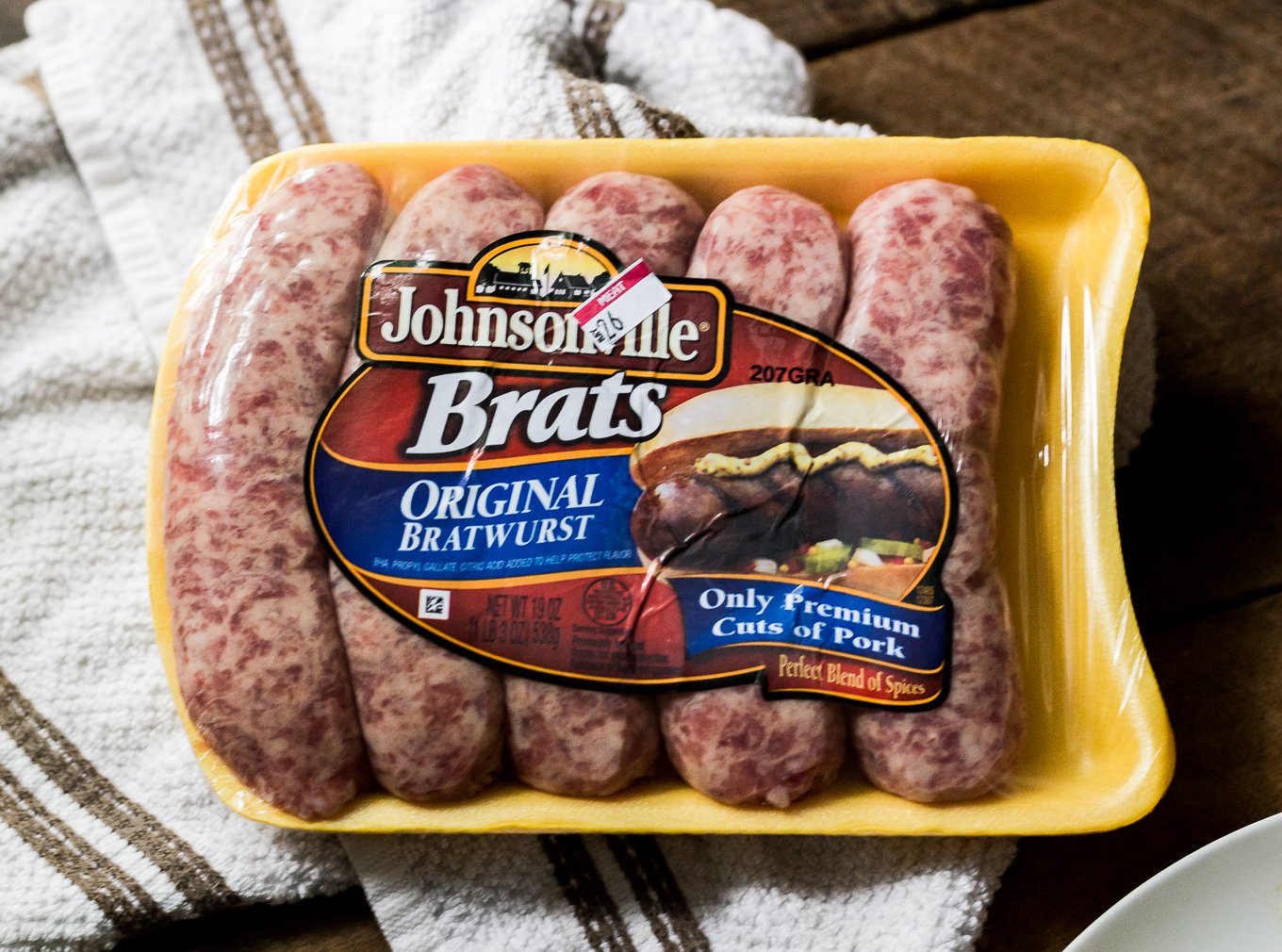 Food Photography by Josh Johnson
Before you go.. Like what you see?