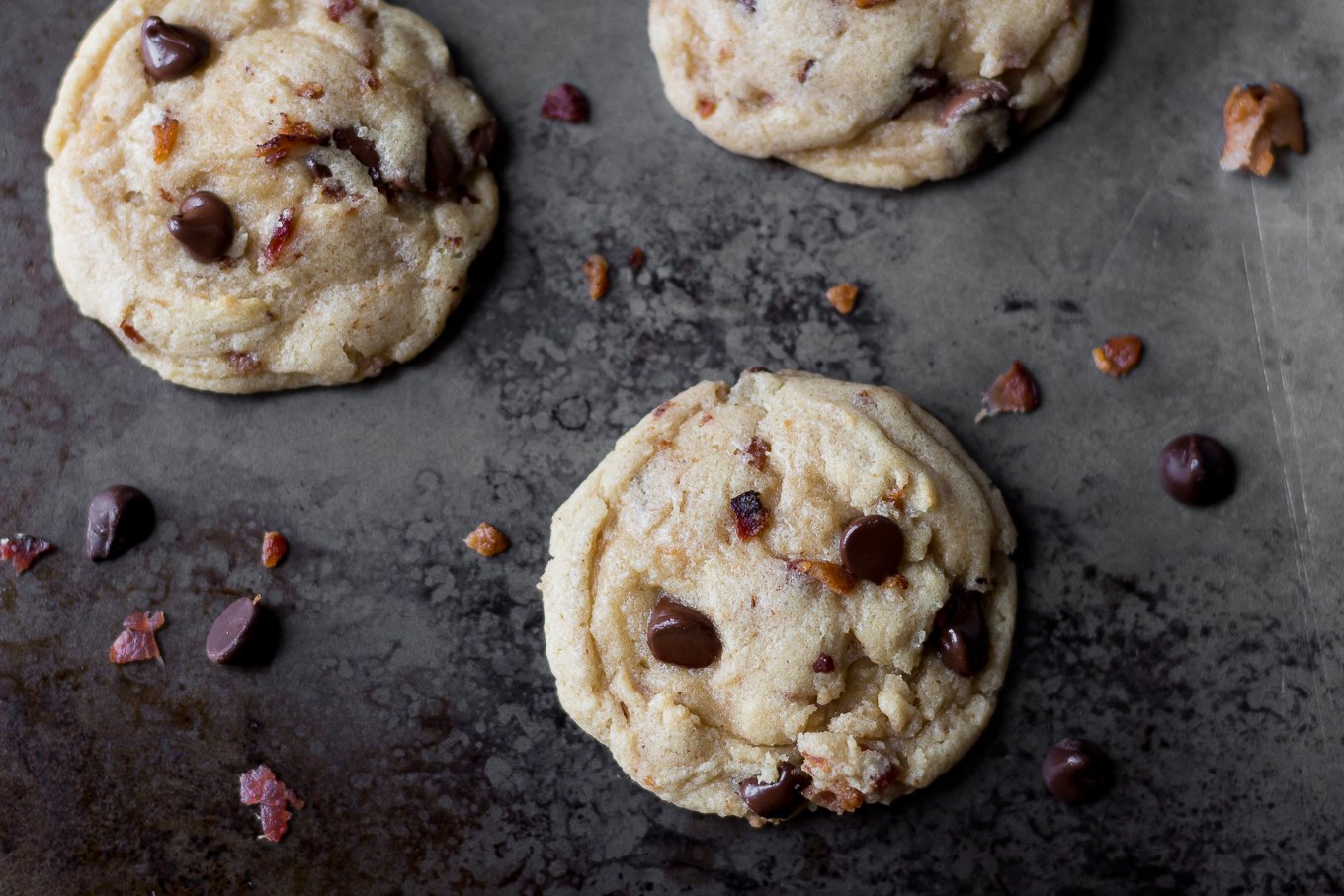 I eat bacon almost every day of the week, and I don't mean just a few slices. Usually go through 3-4 packages a week. What can I say? I really, really like breakfast. Breakfast for dinner. Breakfast for lunch. Even breakfast for dessert? Nah. Not dessert per say, but I did get the idea for these cookies after making breakfast a few weeks back; and I'm glad I did.
Took me a few weeks (tries) to get the recipe just right, but after a few taste testing rounds and a whole helluva lot of crispy bacon – I made it work.
My first couple tries at this cookie resulted in a cookie that nearly slid off the side of the baking sheet in the oven, thanks to the added bit of fat from the bacon and the added heat from fresh bacon being added in. I was impatient and didn't want to chill the dough before baking, but this is one recipe where it's 100% crucial to chill for at least 2 hours before baking. Otherwise you'll end up cookies flatter than a pancake and possibly some burnt onto the bottom of your own – take my word for it.
There are still a few tweaks I'd like to make to this recipe, but that's just because I'm picky. And really like the taste/crunch of bacon. You can definitely taste it in these cookies, but extra bacon can never hurt, right?
Speaking of bacon. How does everyone cook theirs? I used to go the old school way of cooking it in a skillet, but never enjoyed having to stand by the stove to constantly monitor the process. Now I bake it on a parchment paper lined rimmed baking sheet at 400 degrees for 12-15 minutes. Crispy bacon every time, easy clean up, and a hassle free process. It's a win, win.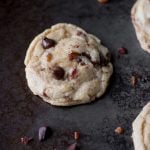 Bacon Chocolate Chip Cookies
---
3/4 cup

unsalted butter (melted)

1 cup

granulated sugar

3/4

light brown sugar

2

large eggs

2 tsp

. vanilla

3 cups

flour

2 tsp

. cornstarch

1 1/2 tsp

. baking soda

1/2 tsp

. salt

1/2 cup

milk chocolate chips

1/2 cup

semi-sweet chocolate chips

1/2 cup

chopped bacon
---
Instructions
Melt butter in microwave in 10 second increments until fully dissolved.
Combine all dry ingredients in medium mixing bowl and whisk to combine, set aside.
Cream butter and sugars for 2 minutes until fully incorporated.
Add eggs one at a time and mix until just combined.
Add 2 tsp. of vanilla.
Gradually fold in flour roughly one cup at a time until dough is slightly tacky.
Add chips and bacon and mix with wooden spoon until combined.
Wrap dough in plastic wrap and refrigerate for at least 2 hours.
Preheat oven to 350 degrees.
Bake cookies on lined baking sheet for 8-9 minutes, or until barely golden grown.
Let cool on baking sheet for 2 minutes, then transfer to wire racks to cool completely.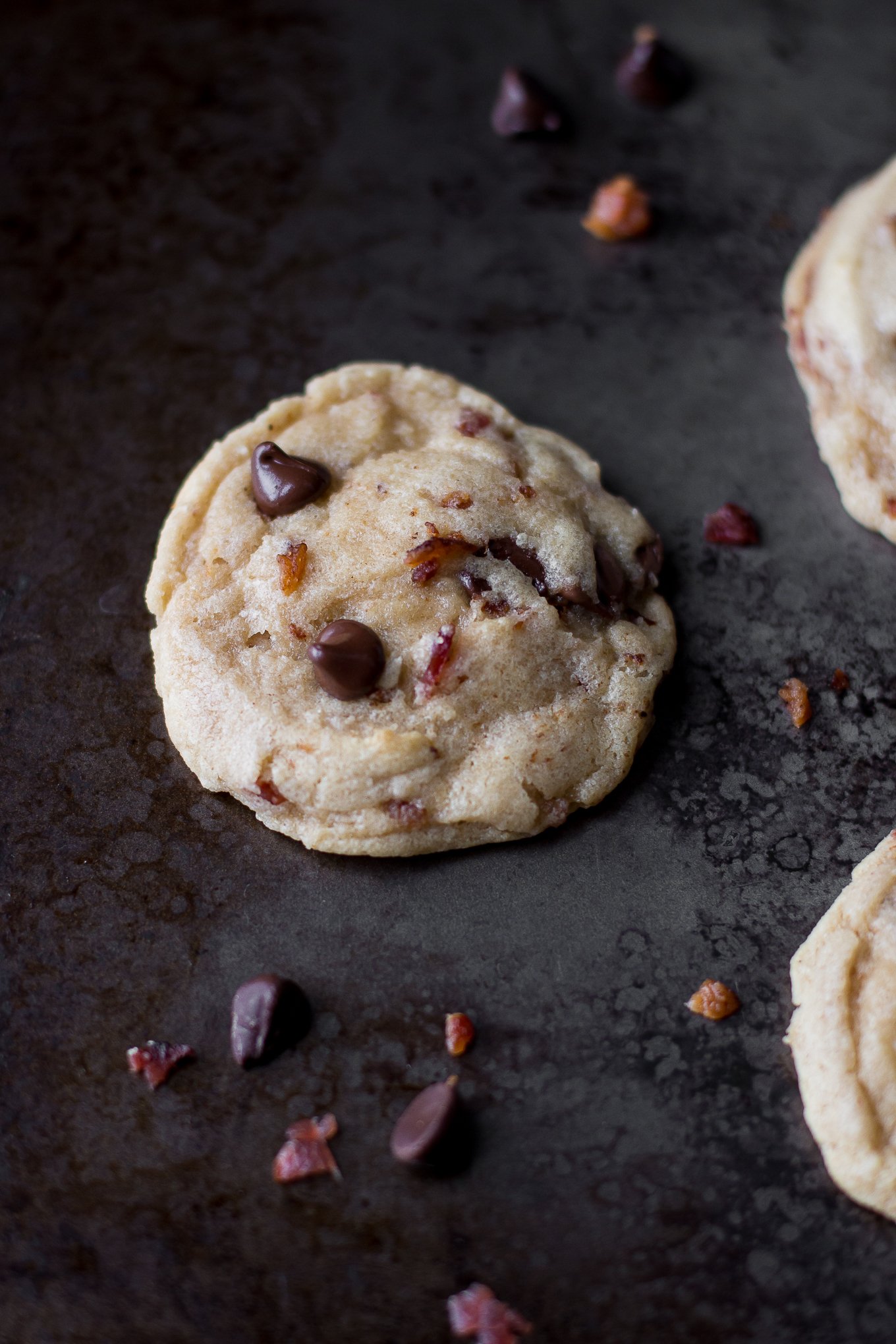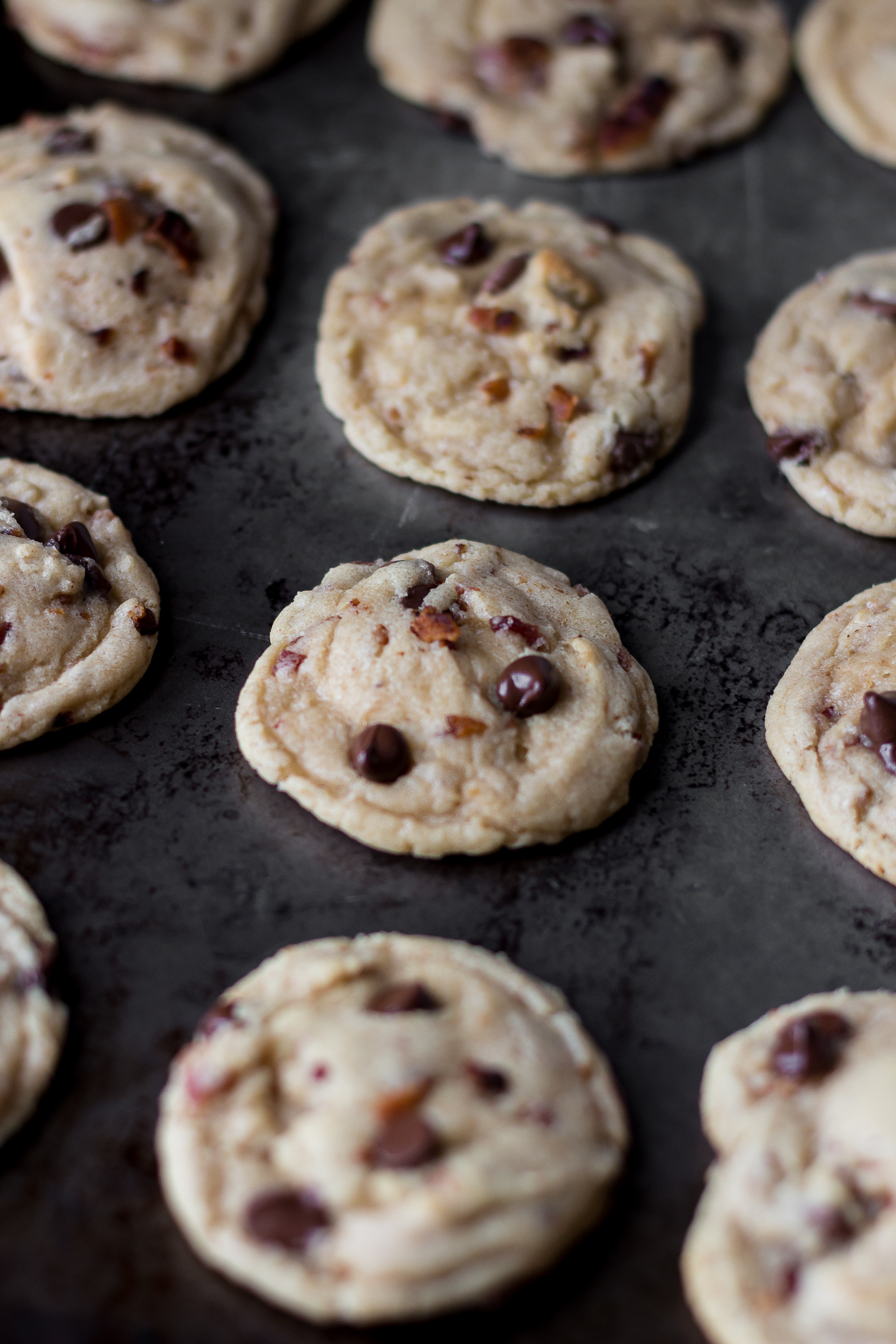 Photos by Josh Johnson
But before you go.. Like what you see?