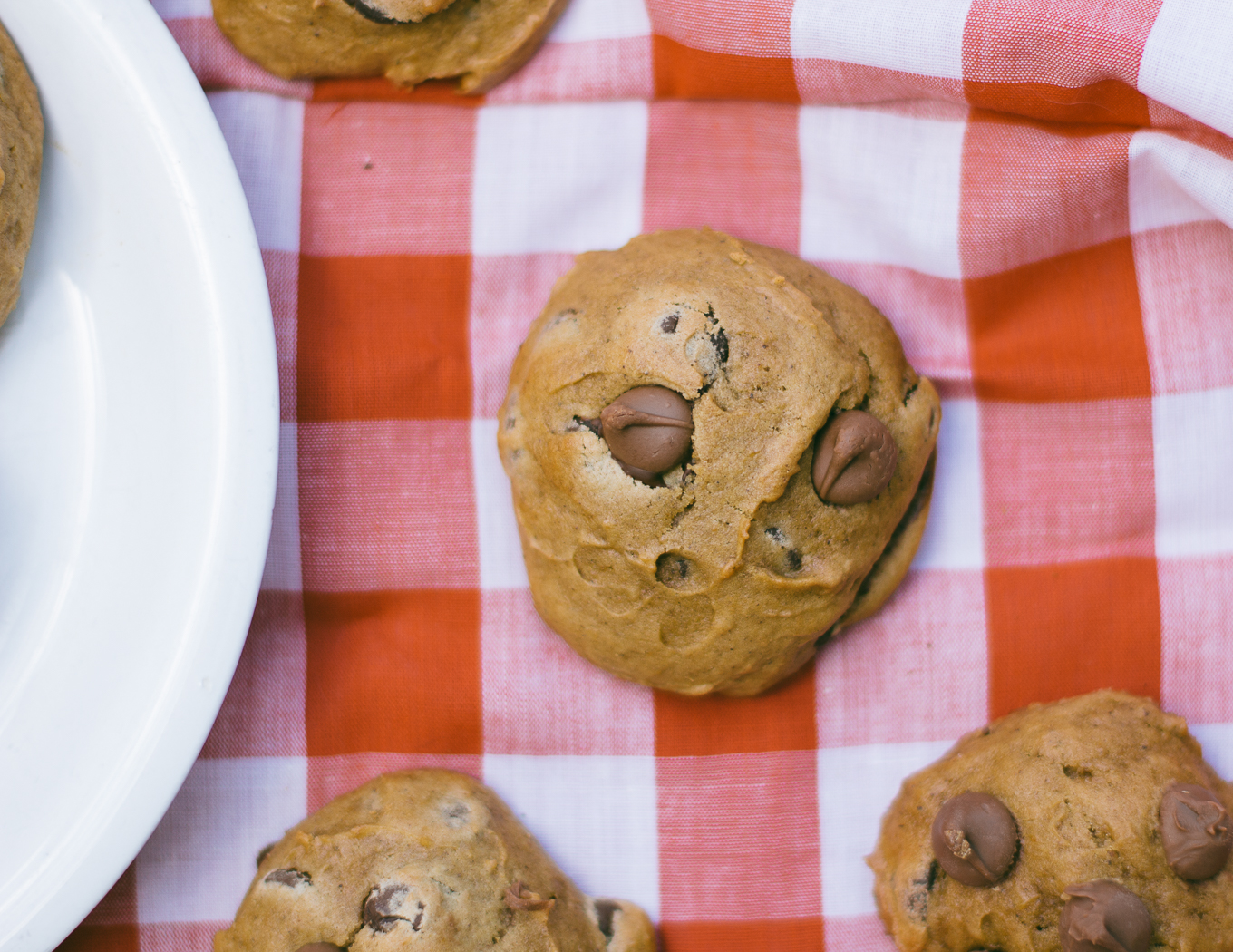 It's officially fall now so I don't feel badly for sharing back to back pumpkin centered recipes, since there's only a certain amount of time that's allowed after all. If you missed yesterday's recipe for Pumpkin Ale Chili now's a good of time as any to get caught up. Cause today's post is all about a Pumpkin Chocolate Chip Cookies recipe.
While these definitely aren't the best looking cookies I've ever made, they're some of the tastiest. Just ask my roommate. I was outside shooting some photos for 10 minutes (tops), and I came back inside to her having eaten 5. Taste test approved. Photo test? Not so much.
Speaking of photos: bare with me as I work through some editing changes. I bought VSCO presets for Lightroom awhile back, but haven't taken the time to learn how to use them until now. Doing my best to find one edit that ties all blog photos in with my Instagram feed so that the two are more seamless, and I figured VSCO was a good place to start. If any of y'all have any tips in that department, I'm all ears!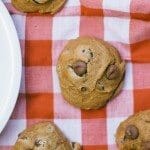 Pumpkin Chocolate Chip Cookies
---
1

lb. melted butter

15 oz

. can pure pumpkin

1 1/2 cups

sugar

1/2 cup

dark brown sugar

2 tbsp

. vanilla

2

eggs

2 cups

flour

1 tsp

. baking soda

1 tsp

. salt

1 tsp

. cinnamon

1/2 tsp

. nutmeg

1/2 tsp

. ground cloves

1

bag semi-sweet chocolate chips
---
Instructions
Combine all dry ingredients in small bowl and whisk together.
In medium bowl cream together melted butter, pumpkin, sugars, and vanilla.
Add eggs one at a time, beat until combined.
Fold in dry ingredients slowly until fully incorporated, before adding chocolate chips.
Using cookie scoop place 2 inches apart on baking sheet and bake for 12-15 minutes.
Allow to cool for 2 minutes before transferring to wire rack to cool completely.