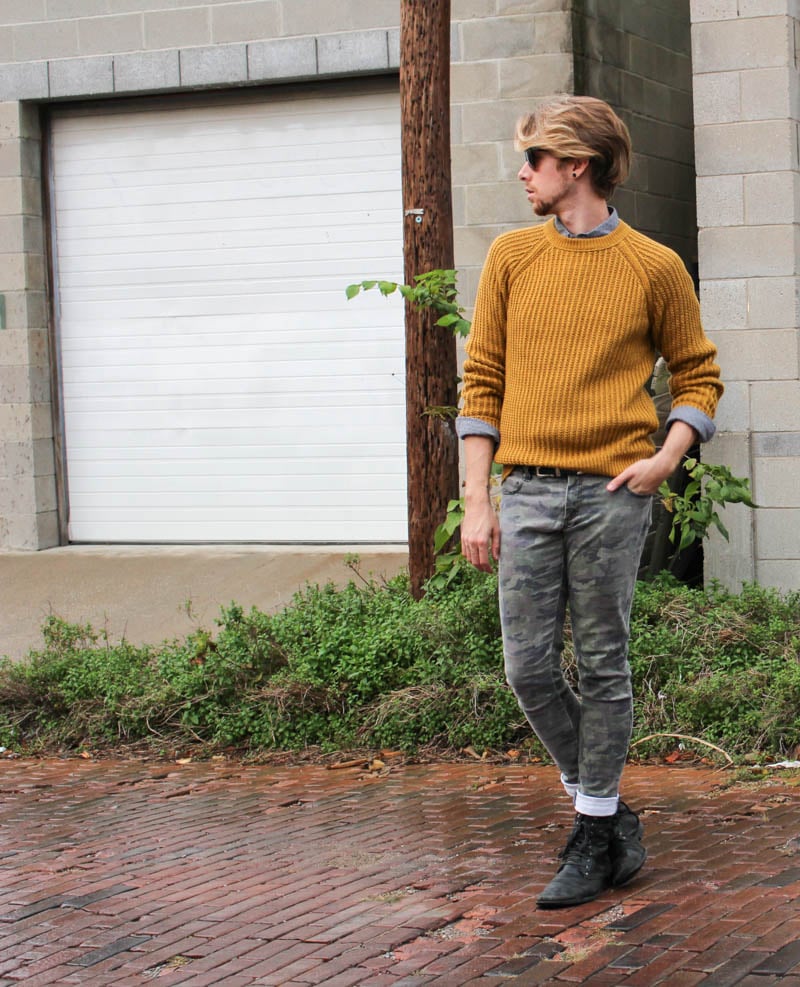 Picked up this little beauty of a sweater when I travelled to Atlanta yesterday for work, be on the look out for that post this week I was just excited about this sweater so this post won out, at H&M. Mustard is my go to color for fall.  As soon as I picked it up, I began racking my mind for outfit options. I was pleasantly surprised by some serious inspiration in GQ by way of an unlikely source.. Banana Republic's newest ad campaign. If you haven't seen it, go check it out, it's a great new direction for them!
Polka Dot Button Front Shirt – Hawkings McGill (similar here), Mustard Sweater – H&M (similar here), Belt – Vintage, Camouflage Pants – Tripp NYC, Boots – Topman (similar here)
I almost forgot how good of a read GQ was.. The articles are always well written and very witty. Not to mention all the pages and pages of ads for some much need inspiration just when I was begin to feeling a little stale.
As I'm sure most of you can see my style isn't exactly Banana Republic, SO I did some tweaking here and there, but ultimately had the same end result. I opted for some slimmer fitting camouflage pants and black combat boots. The idea for mixing the polka dots and camouflage was all theirs, and what a fresh idea it was. I'm a huge fan of mixing and matching patterns, and this pairing dresses up this casual look.
-The Kentucky Gent