This post has been sponsored by Sponsored by P.F. Chang's® Home Menu. All thoughts and opinions are my own.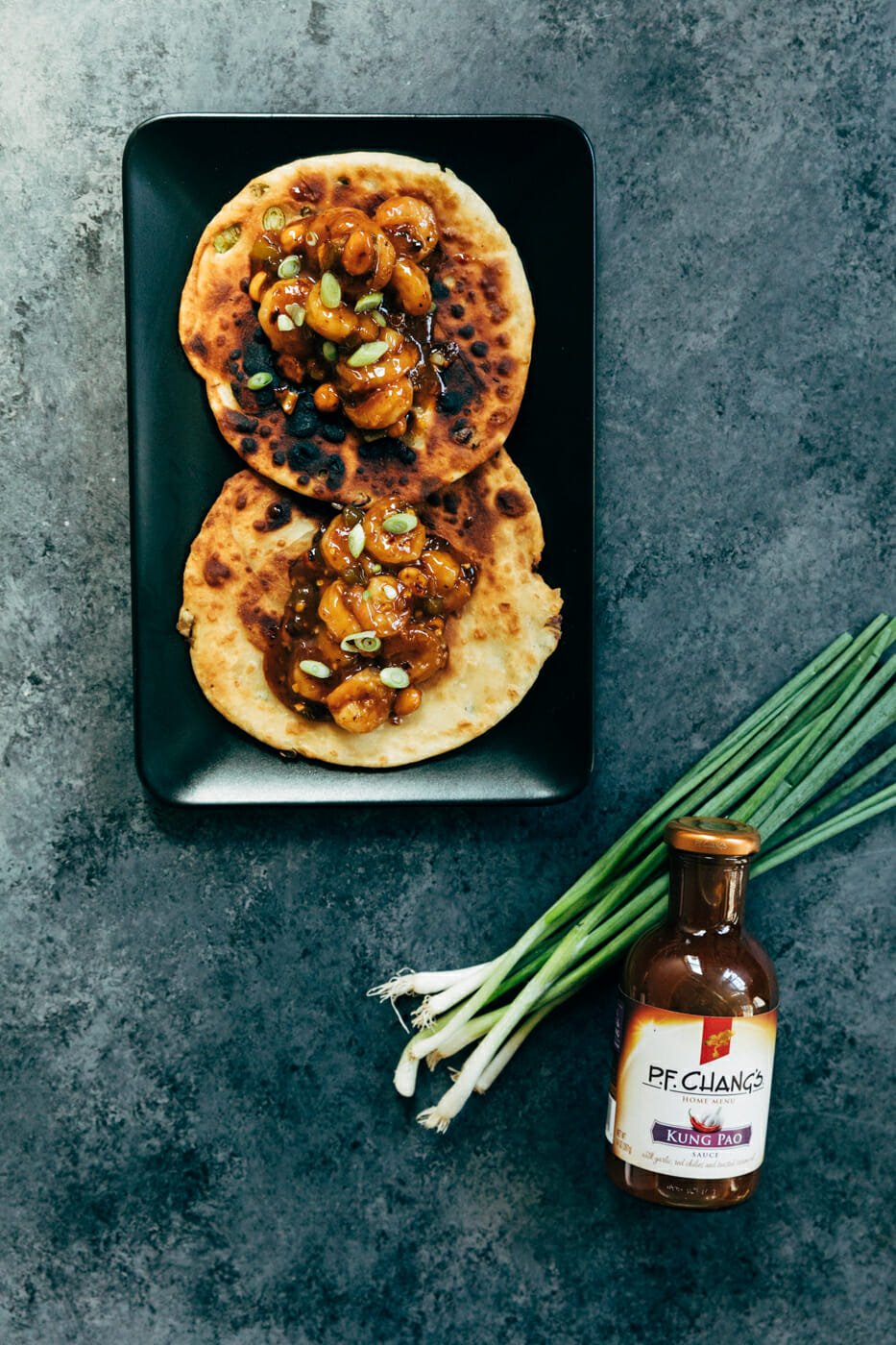 Writing this post while sitting on my balcony in the Dominican Republic on a much-needed vacation and loving every minute of it. The last few months have been insane for me, and this week off in the sun and sand is just what the doctored ordered. Oddly enough this is my first "vacation" since I started blogging full-time, and while I'm still working (obviously) it's still nice to be doing so by the beach.
Sure, I travel a lot for work, but those trips aren't exactly a chance for me to work poolside while getting a tan. So this week I'm fully taking advantage of the option to work poolside, after my morning dip in the ocean. It's not a bad way to live, that's for sure. I 100% understand why folks move down this way. Everyone is friendly, the water is crystal clear, and the sun is almost always out. Consider me sold.
But before I headed south of the border I had a chance to recreate a recipe that I recently got to enjoy back home at a local pop-up dinner. The chef whipped up these AMAZING scallion pancakes and introduced us to his take on a Korean Taco. Easily one of the best things I've ever got to chow down on, and that's saying a lot. So when I had the chance to take P.F. Chang's® Home Menu Kung Pao sauce on a test run I knew exactly what I was going to do. Boy, I was not disappointed. So naturally I knew I had to share it with y'all. So be prepared to be wowed.
The best part? P.F. Chang's® recently introduced their sauces in local Kroger stores. Meaning I can literally walk down the street, pick up a sauce or two, and have a beyond delicious dinner ready in under an hour. Sound like something you'd be into? Then you're in luck! Why? Because today I'm sharing the recipe for BOTH the scallion pancakes and Kung Pao Shrimp, excited yet? Good. You should be.
Now all you have to do is grab the recipe(s) below and watch the video to see how to make these for yourself. I promise you'll want to come back for seconds, maybe even thirds. So what are you waiting for? Try it today and save $1.50 with this digital coupon at Kroger. While supplies last. Then check the end of the post for coupon link outs to the entire Kroger Co. Family of stores! Last, but not least, once you try these for yourself. Circle back and let me know what you think.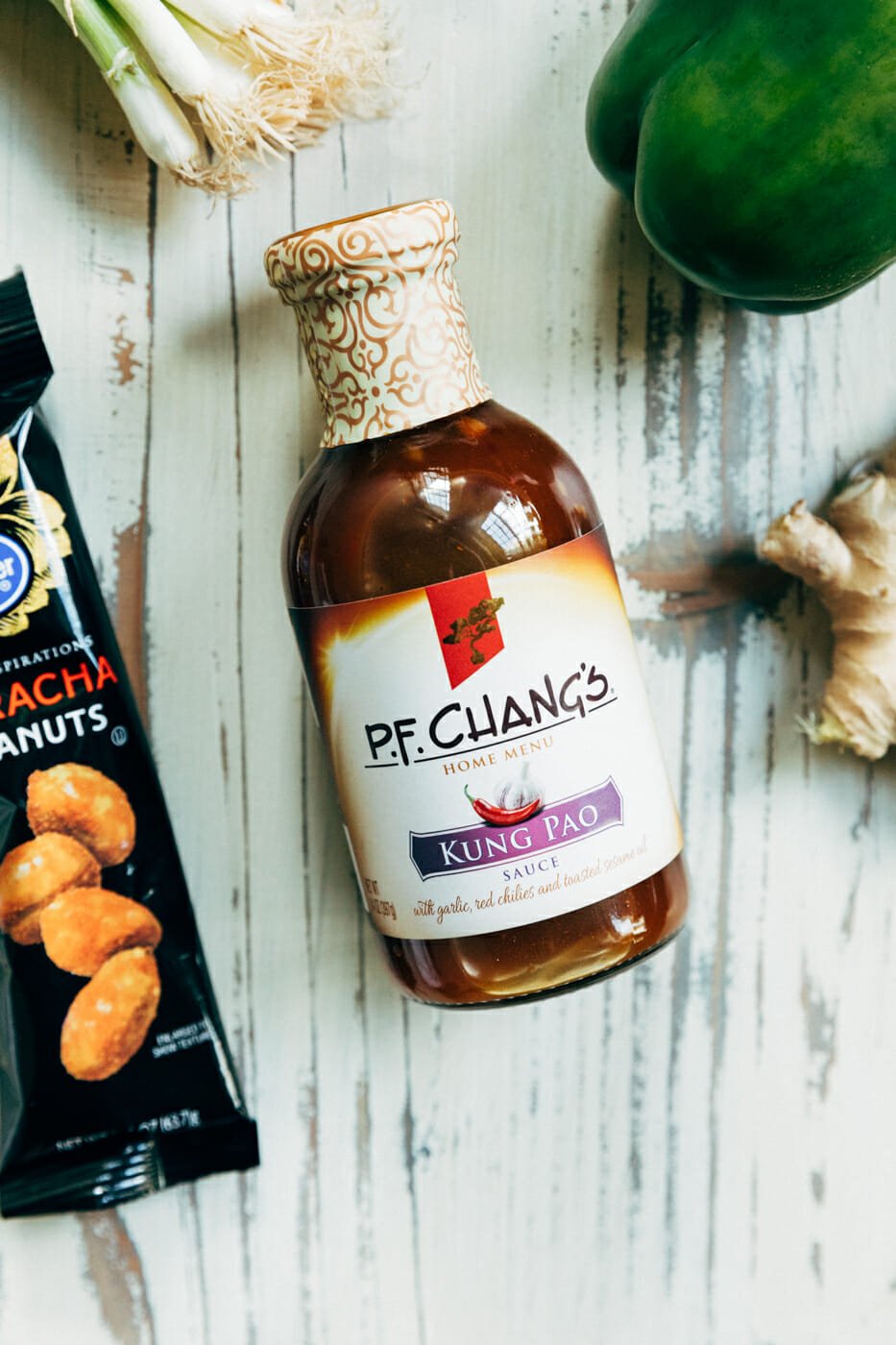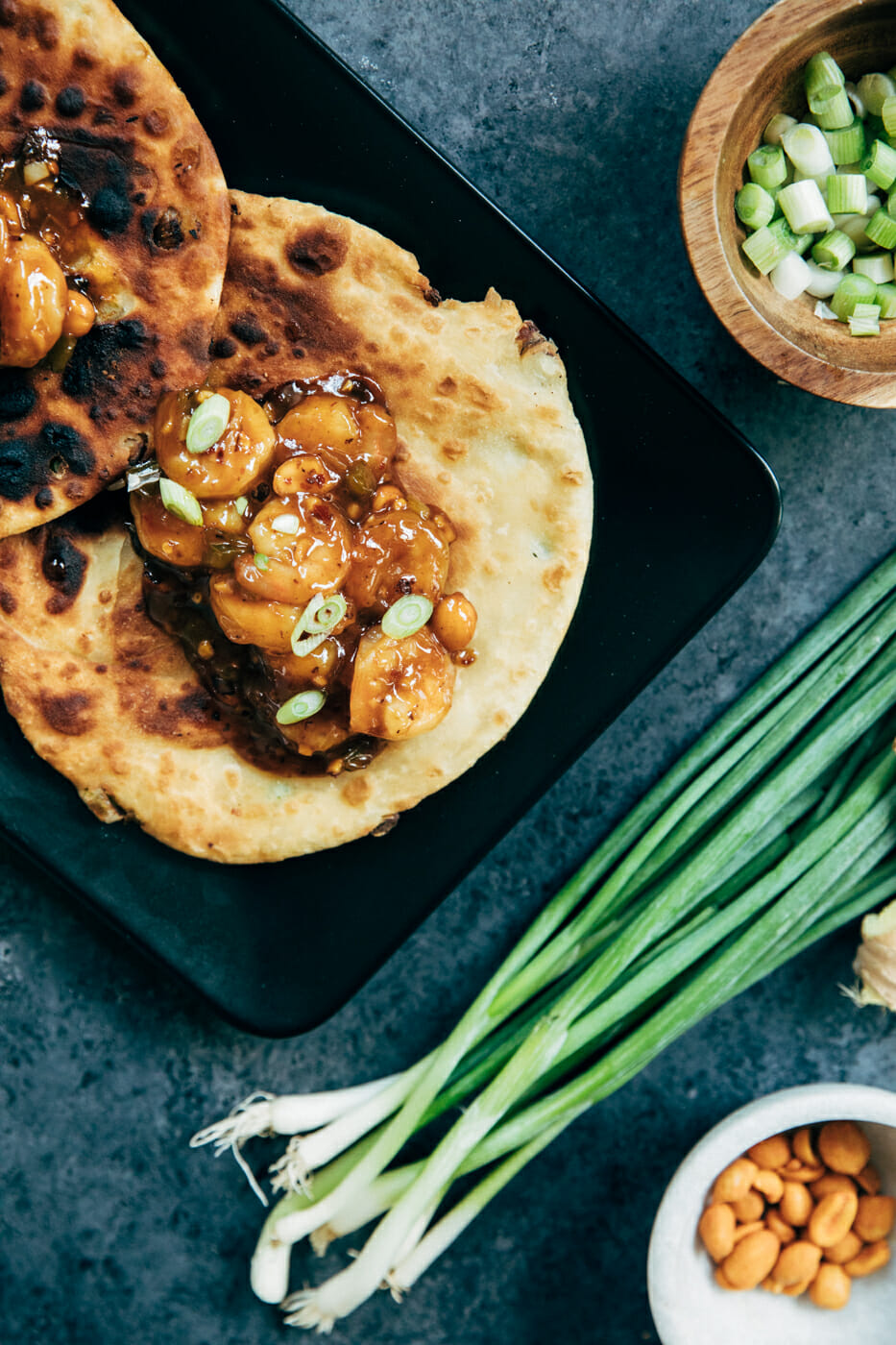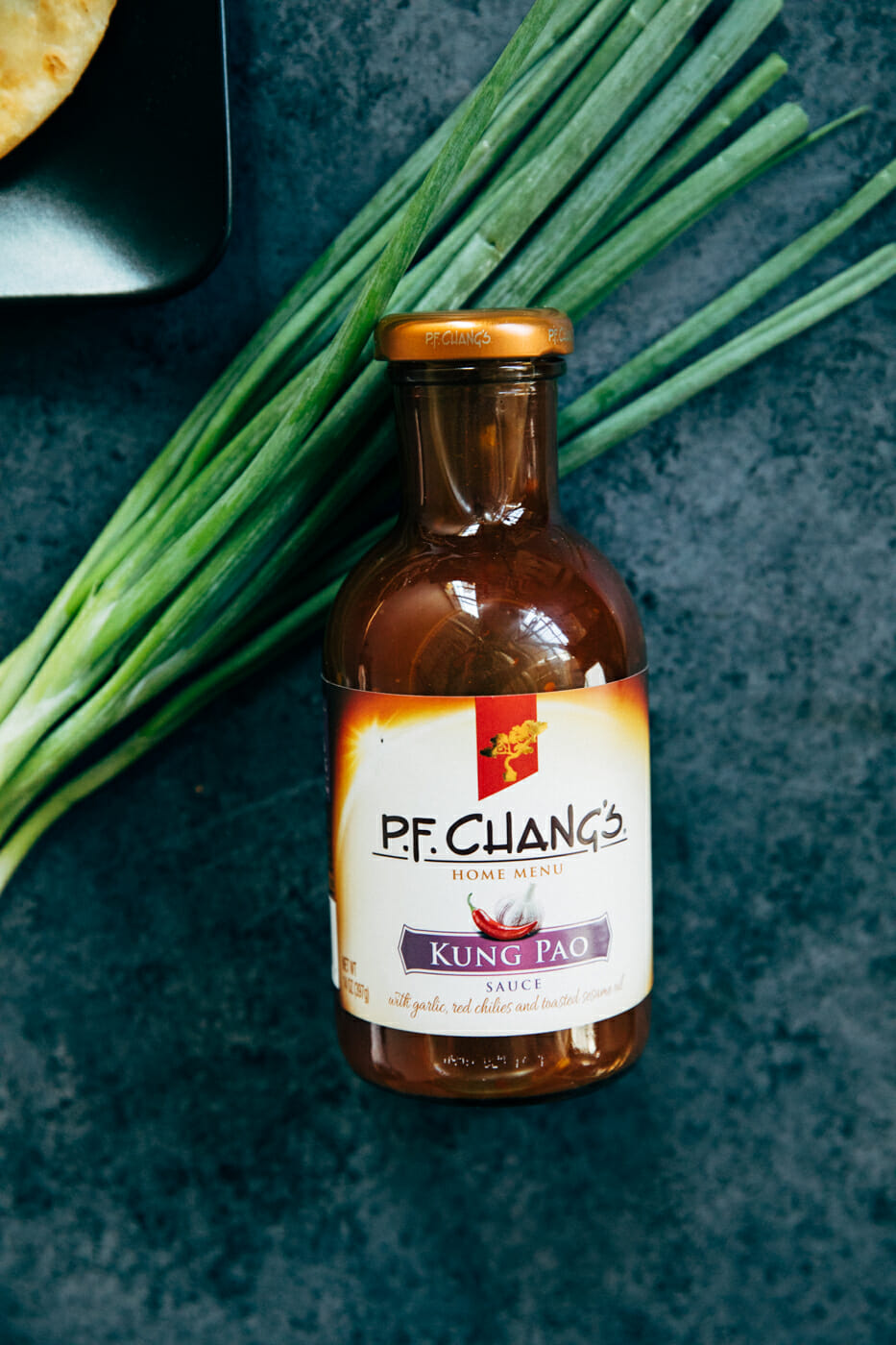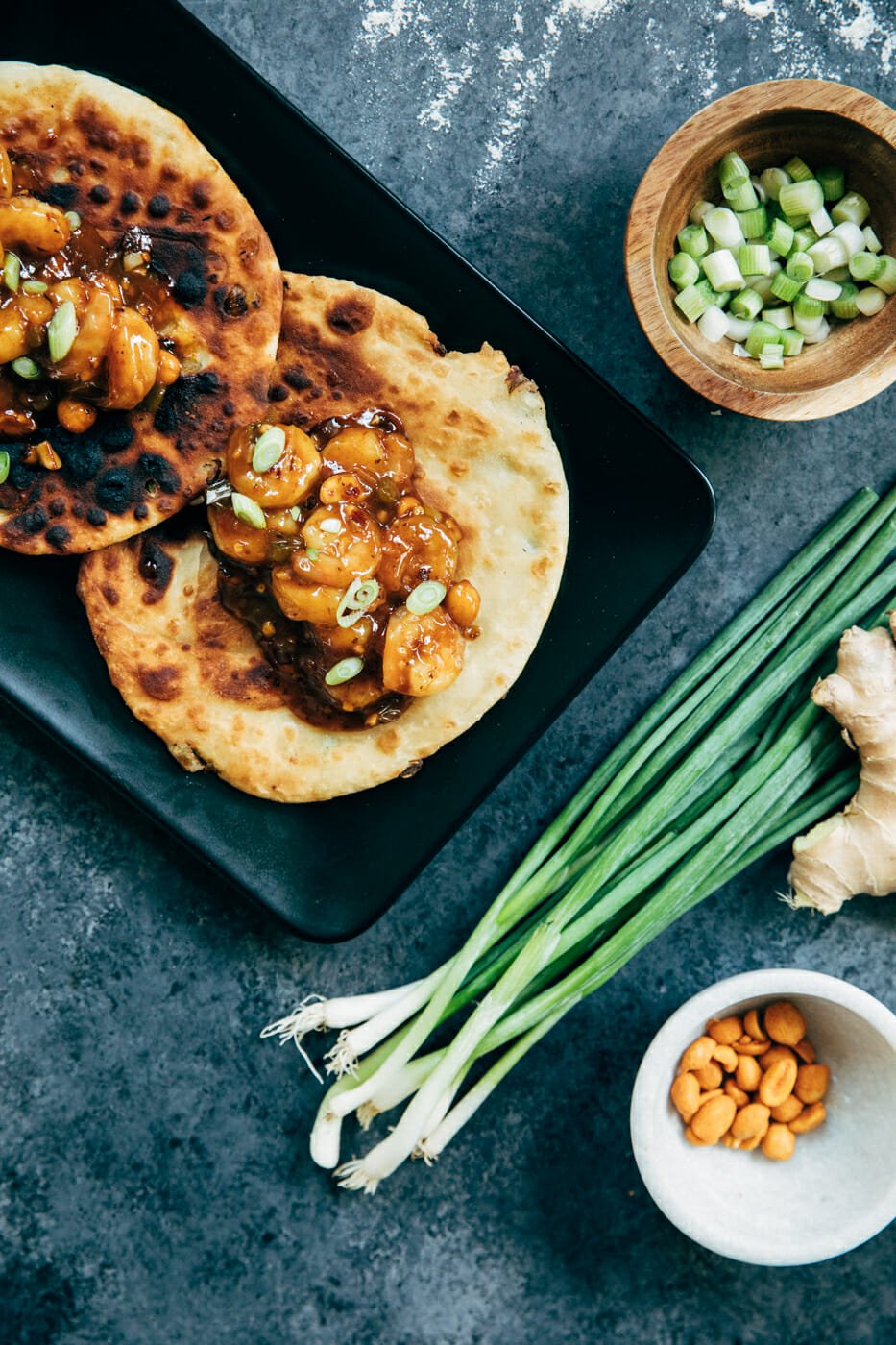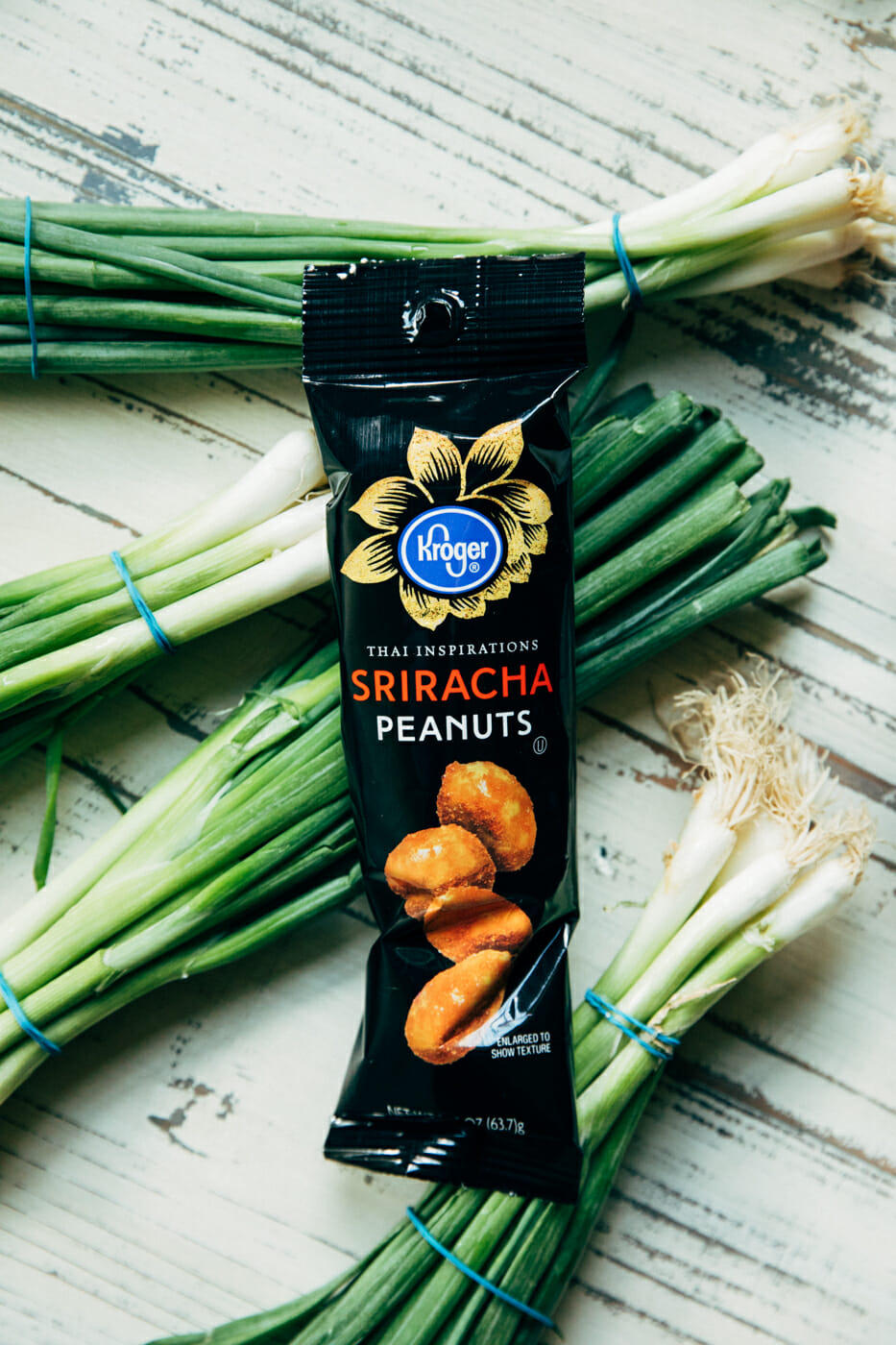 Print
1

bottle of P.F. Chang's® Home Menu Kung Pao Sauce

2 tbsp

. vegetable oil

1

-inch piece ginger, peeled and diced

½

onion, diced

1

green pepper, chopped

2

garlic cloves, diced

¼ cup

roasted peanuts

3

scallions, diced

1 tbsp

. red chili flakes

10

–

15

shrimp, shelled, peeled and deveined
---
Instructions
Heat skillet over medium-high heat, once hot pour in oil, and add ginger.
Do a few quick stirs, then add onion and green pepper, and cook for 1-2 minutes or until onion is fragrant.
Add garlic, peanuts, and chili flakes to skillet and continue to cook for 1-2 minutes.
Once vegetables are stir-fried add in shrimp and cook for 4-5 minutes before adding P.F. Chang's® Home Menu Kung Pao Sauce.
Turn heat up slightly and allow sauce to reduce until slightly thickened, constantly scraping the bottom of the skillet to according scorching.
Once sauce has thickened, removed from heat, and fill scallion pancakes.
Top with diced scallions and chow down.
Print
2 cups

all-purpose flour

1 cup

boiling water

¼ cup

toasted sesame seed oil

2 cups

thinly sliced scallion greens

½ cup

vegetable oil
---
Instructions
In large mixing bowl add flour and slowly pour in boiling water tablespoon at a time while mixing with a wooden spoon until dough comes together.
Transfer to floured work surface and knead until dough is smooth and no longer sticky.
Place back in bowl, cover with plastic wrap and a damp towel, then allow to raise on kitchen counter for 30 minutes or longer.
Once dough has risen divide the ball into 4 equal segments and roll them into roughly 8-inch disks.
Using a pastry brush paint sesame oil over the top layer of each disk, sprinkle scallions on top, and then tightly roll the dough as you would a burrito, shape back into a ball, and roll the ball into a 6-inch disk.
Heat oil in a cast-iron skillet over medium heat until shimmering, and then place the pancake into the hot oil. Cook for 2 minutes on each side or until golden brown and crispy.
COMPLETE KROGER BANNER STORE LIST:
[one-fourth-first]King Soopers
City Market [/one-fourth-first]
[one-fourth]QFC
Food4Less[/one-fourth]
[one-fourth]Bakers
Gerbes[/one-fourth]
[one-fourth]Payless
Foods Co[/one-fourth]