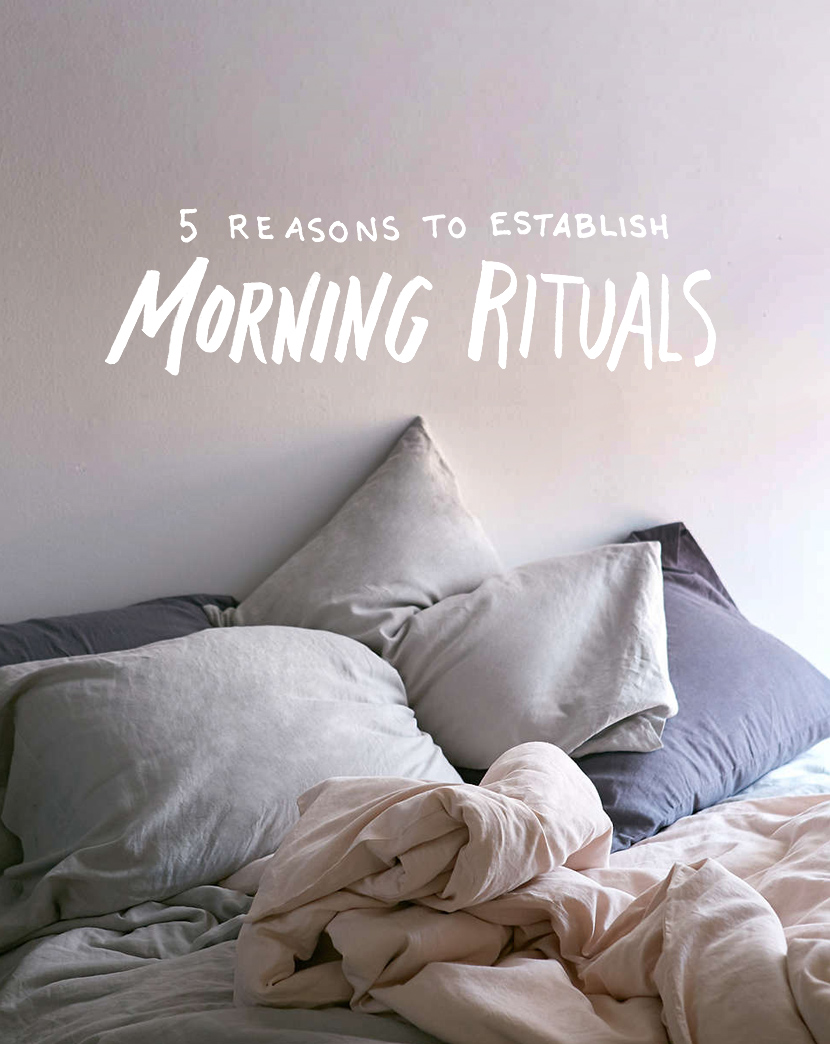 I love being a morning person, but as much as I love being a morning person I hate actually waking up early. By that I mean I love how productive I am when I'm up early. On the days I'm up early I tend to knock out a workout, eat breakfast, take care of emails and the day's work before lunch time. The days I don't get up early? I constantly feel like I'm playing catch up.
The biggest hindrance in setting morning rituals for myself is that I work from home and don't HAVE to follow a set schedule, which seems great but in reality sucks more so. BUT I know other self-employed folks that kick ass in this department, and once I get the hang of it – I will be too. Don't mind me just getting a head start on New Years Resolutions. Earlier this week Mike and Megan shared 5 Reasons to Establish Morning Rituals (as well as their own rituals), and while what's good for some isn't always good for others it's definitely a great starting point.
Speaking of rituals: I've gotten into a bit of rut in Louisville. I do the same things, eat at the same places, see the same people (love y'all, mean it), and feel like I'm living life on repeat at the moment. Which means it's high time for a trip somewhere, and after seeing Justin's trip to New Orleans and Mike and Gabi's trip to San Francisco I've definitely got a good idea of where I should be headed.
Between all the Holidays that are coming up though and the fact that this will be the first Holiday season without my grandma my travel plans will more than likely be on hold until after the new year, which is ok. Louisville is great place to be this time of year, and like Danielle reminded me yesterday: we've always got a ton going on during the Holidays.
I was introduced to a new whiskey earlier this, which I shared on Instagram last night, and I realized that the older I get the more I enjoy bourbon straight up. And while that may almost always be the case, I definitely still have a thing for a craft cocktail (or two).
I've been nursing the same bottle of cologne for quite a while now, and it finally bit the dust yesterday – with the change in seasons I'm feeling like making a change myself, but I'll be the first to admit I have no idea where to start. Luckily, Brian has us all covered.
Back to the morning rituals business: going to the grocery store is on my to-do list for today because it's 100% guaranteed that when I know I have food to wake up to in the mornings I'm much more prone to haul my ass out of bed, and while these Yogurt Covered Eggs in a Basket may not be easiest (best) option on those mornings I'm trying to get my ass in gear they sound damn delicious for brunch this weekend. I'll report my findings, probably on Instagram.
I made rigatoni for the first time a few weeks back, and while I'm normally always a fan of pasta I wasn't 100% sold on it. Mostly cause I don't think I prepared it properly though, totes my fault. Luckily for me (and the extra pasta sitting in my pantry) Nicole's recipe for Creamy Butternut Rigatoni with Pancetta and Brown Butter Fried Sage made me think I should give the pasta a second go.
Photo c/o The Fresh Exchange