I made a delicious and easy breakfast using Johnsonville® as part of a sponsored post for Socialstars, but as always all thoughts and opinions are my own. #SausageFamily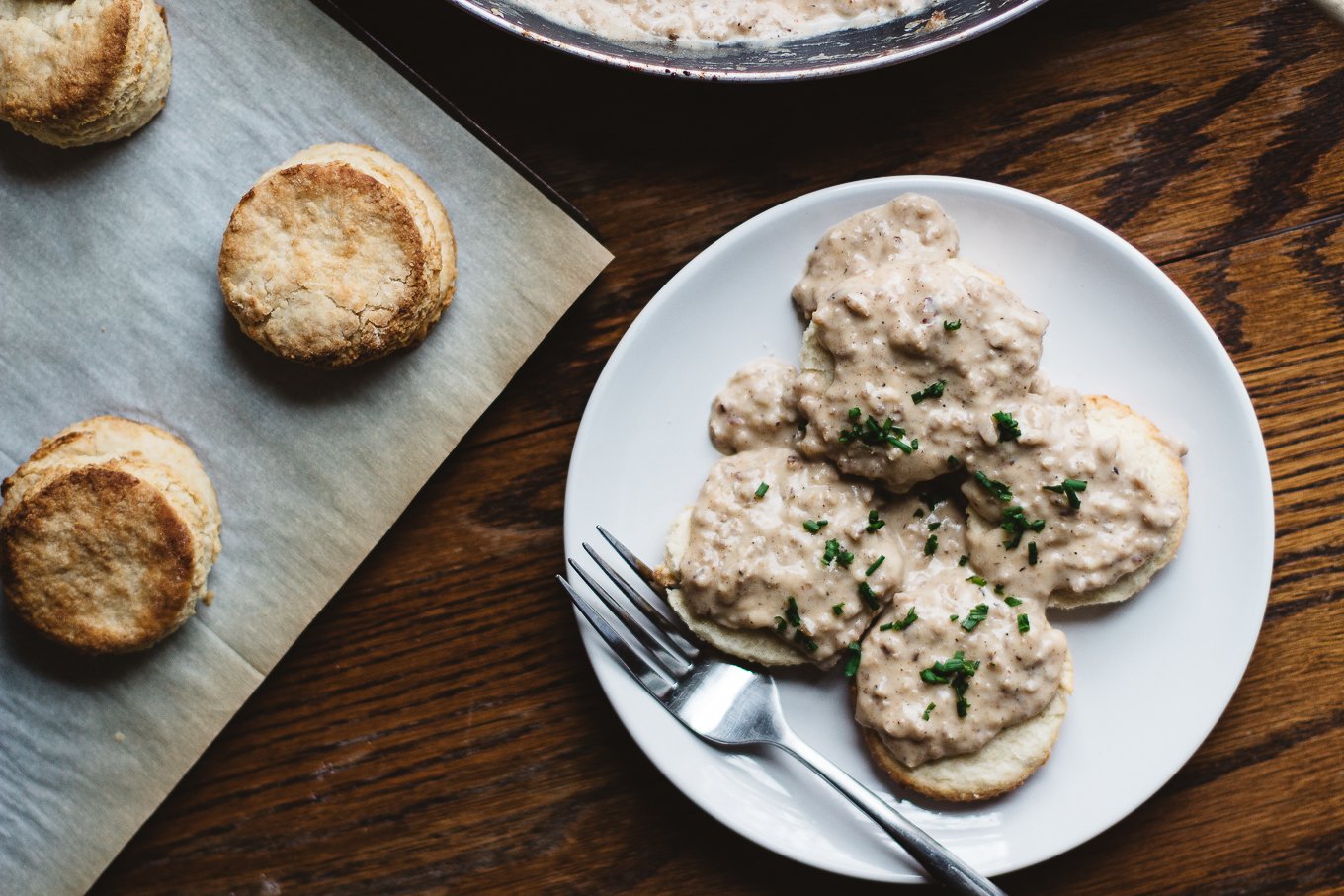 We had biscuits and gravy for breakfast all throughout the year when I was growing up, but there's definitely something about the warm deliciousness of this savory dish that is perfect for this time of year.
And while I'll always love my mom's cooking I like my food a tad bit spicer than she's a fan of. Because of that this gravy recipe has been my go-to for the last few years, and while I didn't think it had any room for improvement the addition of Johnsonville® maple sausage patties and a few new seasonings resulted in a new and improved biscuits and gravy recipe.
The cayenne pepper coupled with the dried thyme helps to balance out the sweetness in the Johnsonville® maple sausage patties in the best way possible. There's a spice that hits the back of your throat, but a sweet and savory taste that lingers in your mouth long after you've taken your last bite.
And these biscuits.. I'm telling ya, one of the easiest and most tasty recipes – ever. It was my first try at homemade biscuits, and they came out beautifully – can't wait to cook up a few other varieties of them.
What is your/your families go-to breakfast recipe this time of year? Sound off in the comments below and let me know!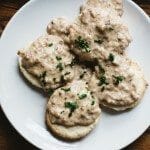 Savory Biscuits and Gravy
---
Biscuits
2 cups

all-purpose flour

1 tbsp

. sugar

1 tbsp

. baking powder

1 tsp

. salt

½ cup

butter (cut into tbsp.)

¾ cup

buttermilk
Gravy
1

pkg. Johnsonville® sausage patties

4 tbsp

. unsalted butter

4 tbsp

. all-purpose flour

4 cups

2% milk

1 tsp

. black pepper

1/2 tsp

. sea salt

1/4 tsp

. cayenne pepper

1/4 tsp

. dried thyme
---
Instructions
Biscuits
Heat oven to 450 degrees.
Line baking sheet with parchment paper.
Combine flour, baking powder, sugar, and salt into food processor; pulse to combine.
Drop in butter, pulse 3-4 times.
Remove blade from processor and pour in buttermilk, form into ball.
Transfer ball to floured surface.
Knead 3-4 times before rolling into rectangle.
Cut into three even sections and layer on top of each other.
Using biscuit cutter (or wine glass) cut out biscuits and transfer to prepared baking sheet.
Repeat process until you've used all dough.
Bake at 450 degrees for 10 minutes.
Gravy
Brown Johnsonville® sausage patties over medium heat.
Transer patties to food processor and pulse until crumbled.
In the same pan you cooked the sausage melt 4 tbsp. of butter and cook for 1-2 minutes, whisking constantly.
Add 4 tbsp. of all-purpose flour, whisking thoroughly to combine, cook for 1-2 minutes or until brown.
Slowly add milk one cup at a time while whisking constantly. The slower you add the milk the quicker your gravy will set up.
Once gravy has reached your desired thickness (around 7-8 minutes usually) add sausage, black pepper, sea salt, cayenne pepper and dried thyme – stir to combine.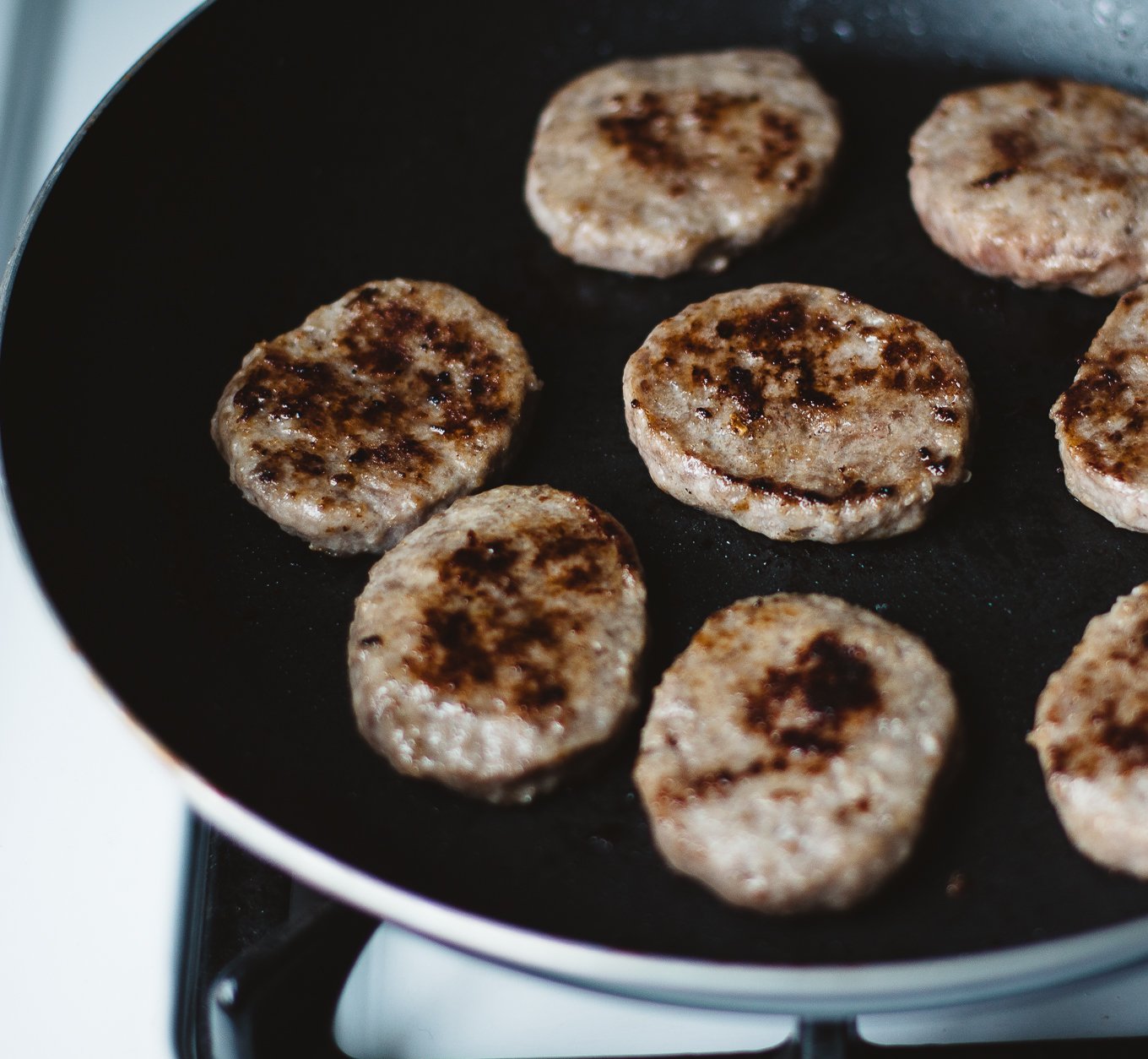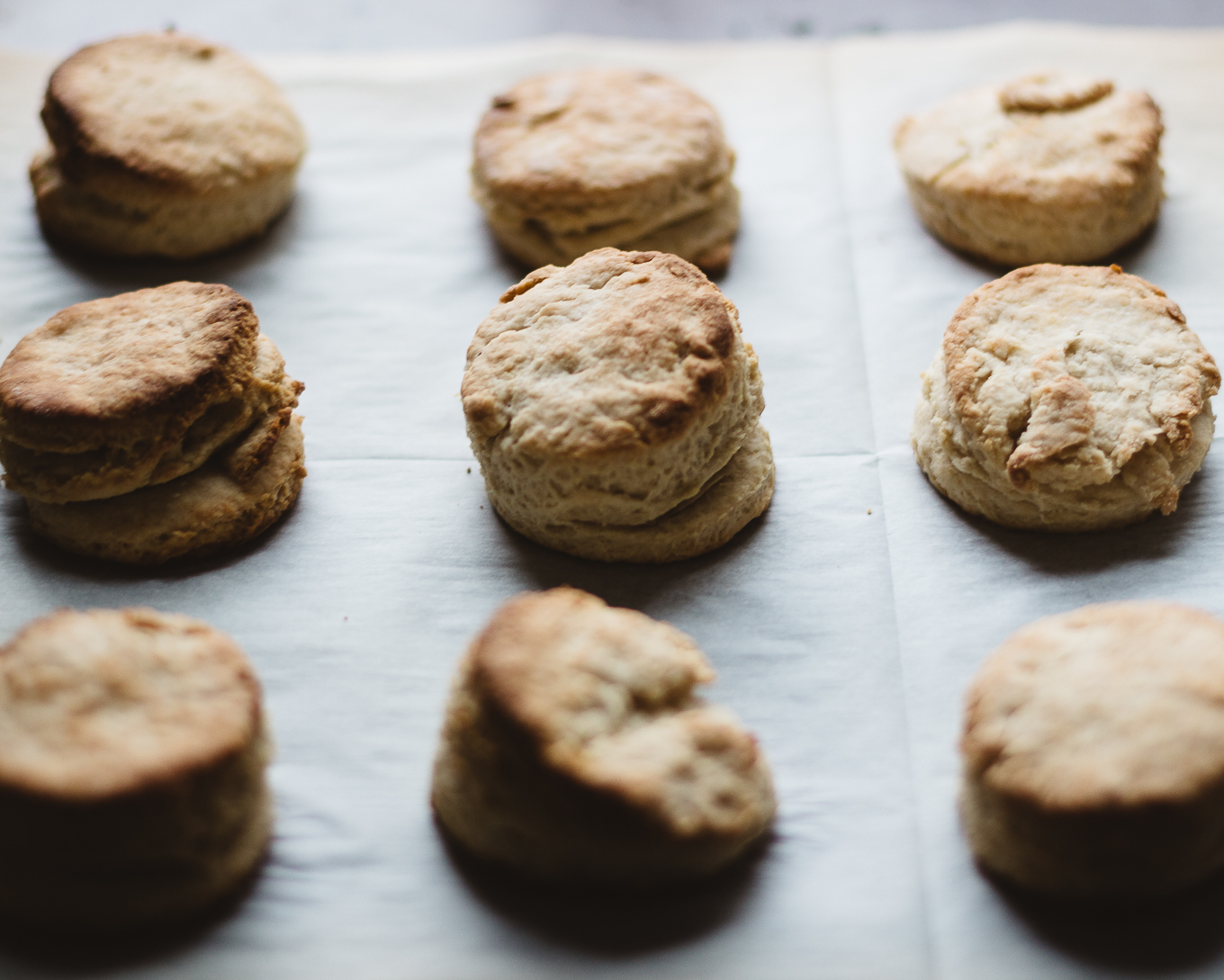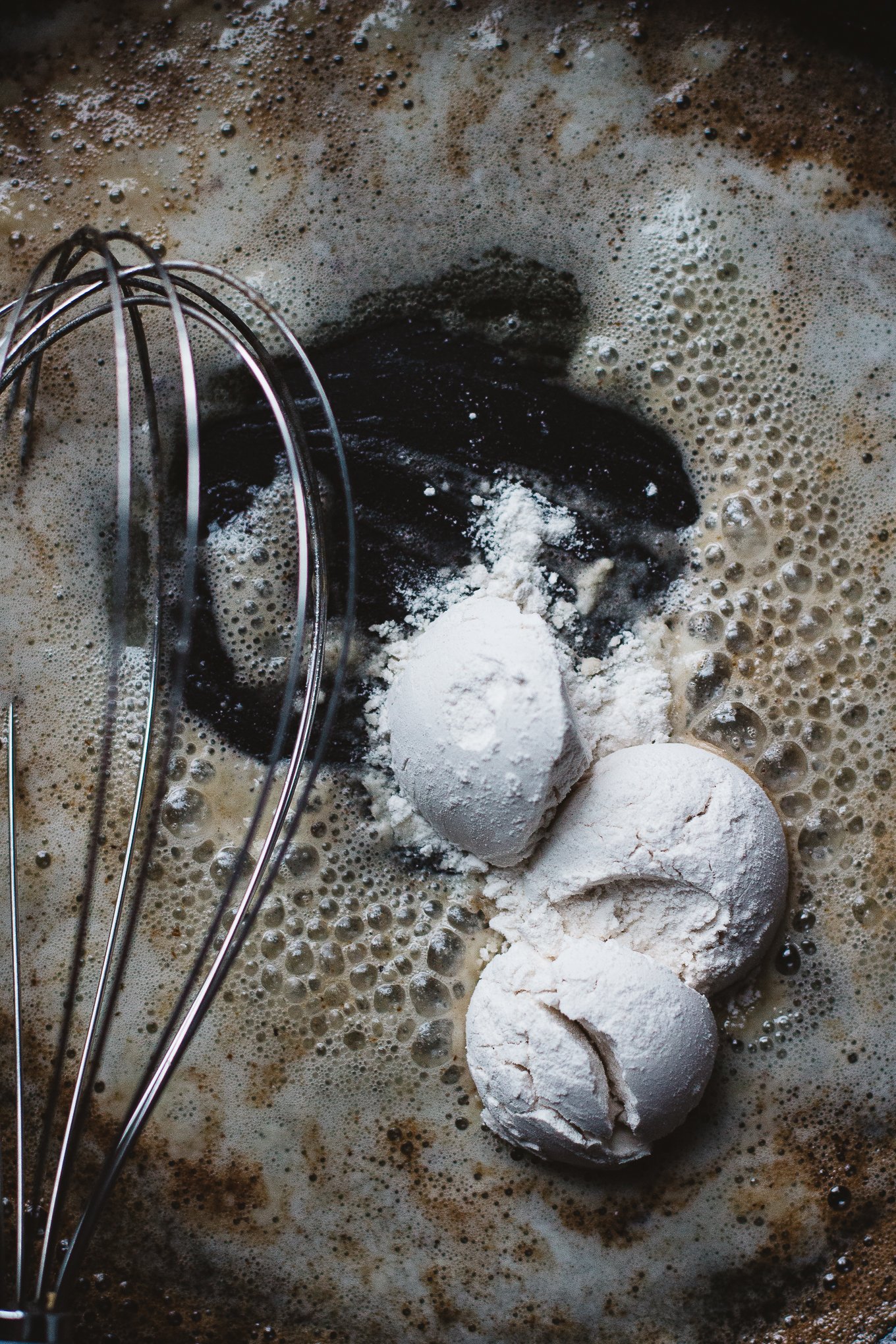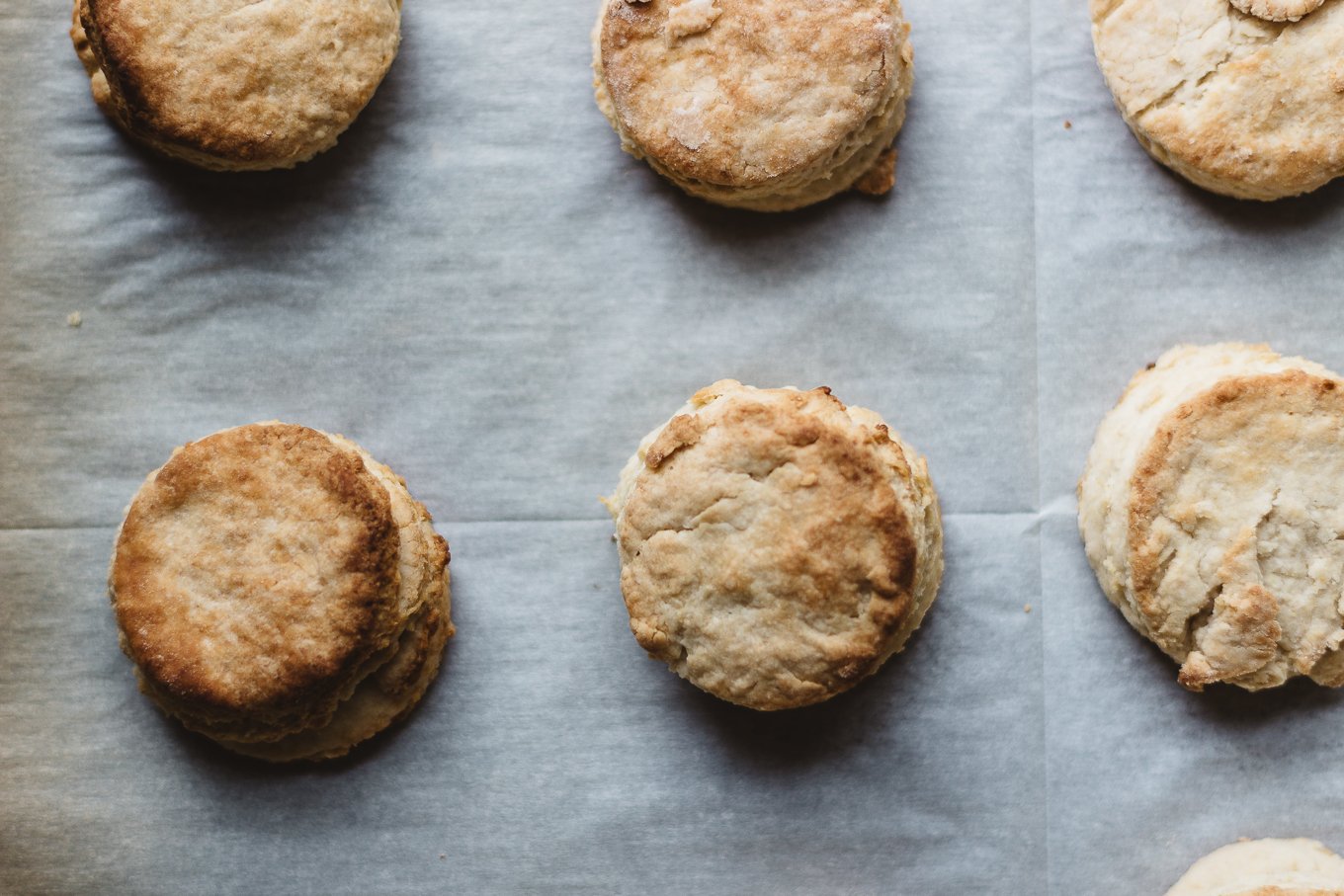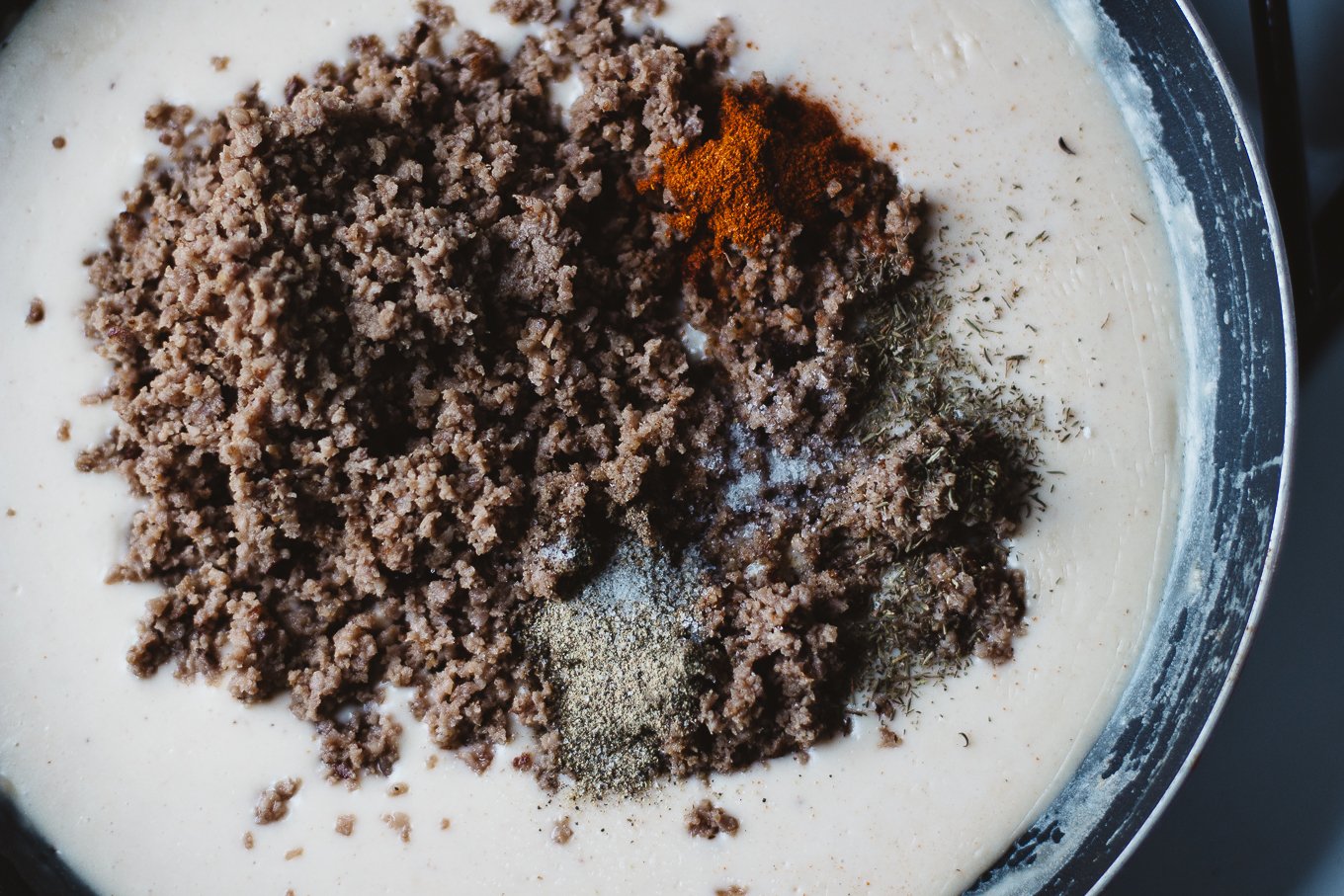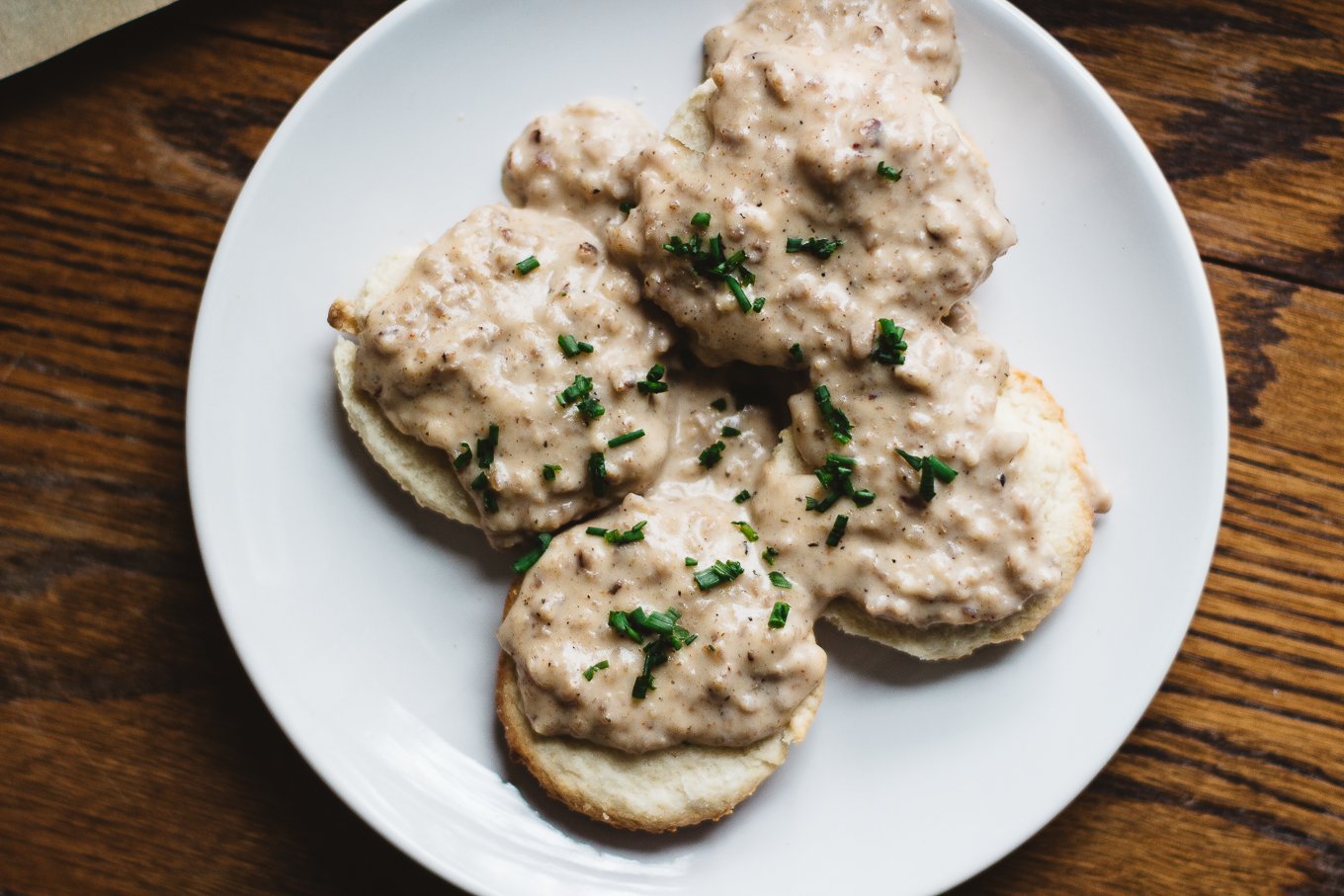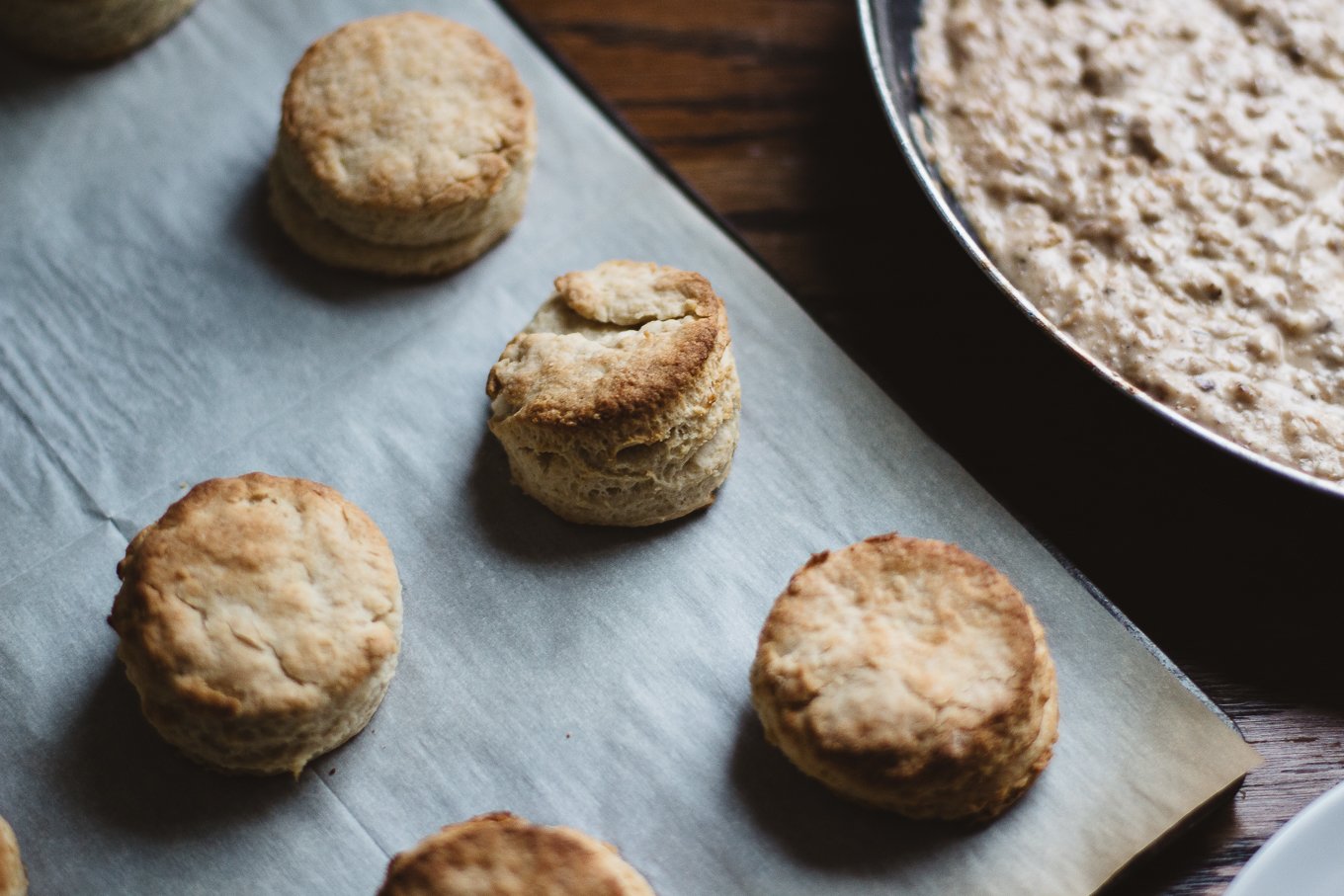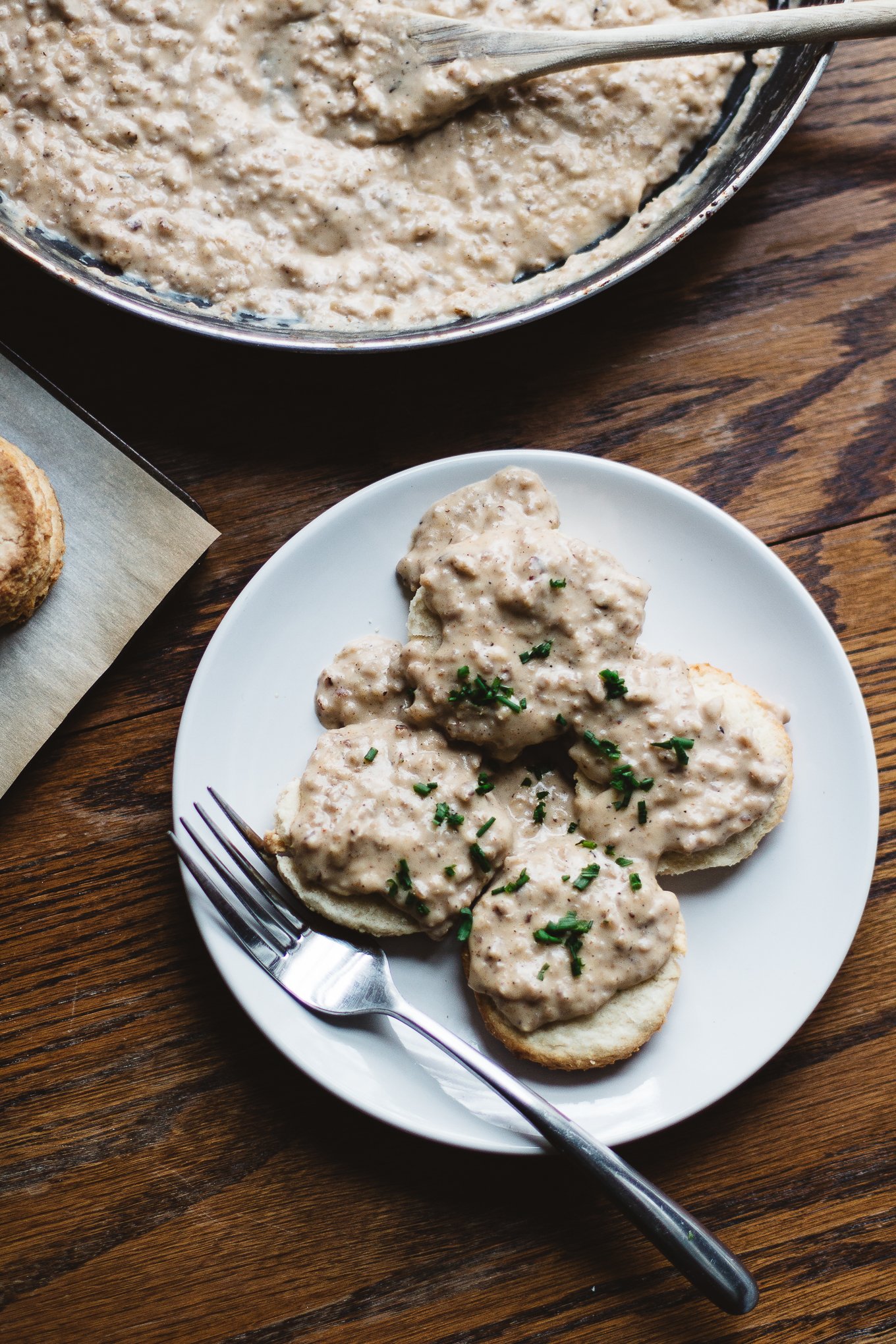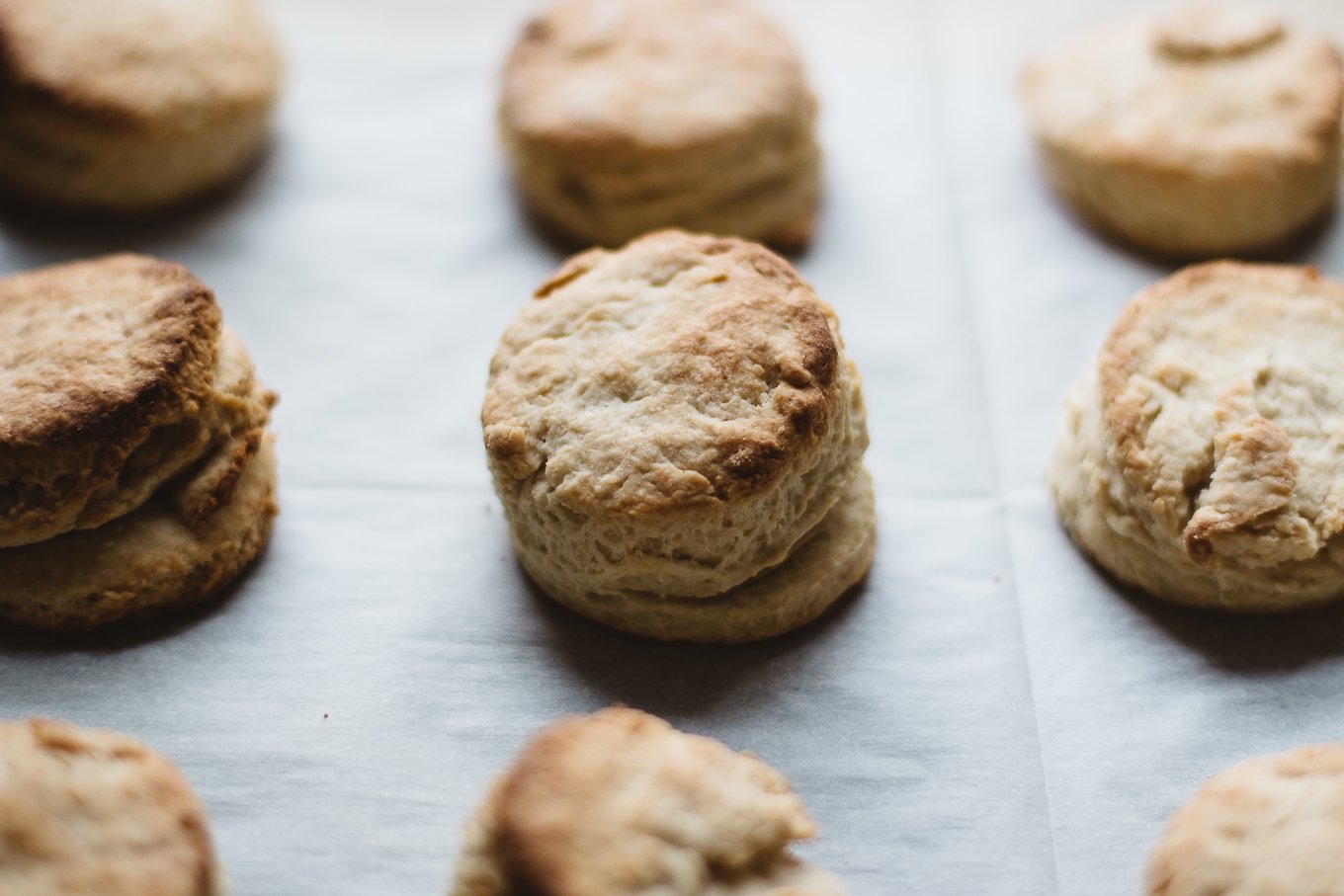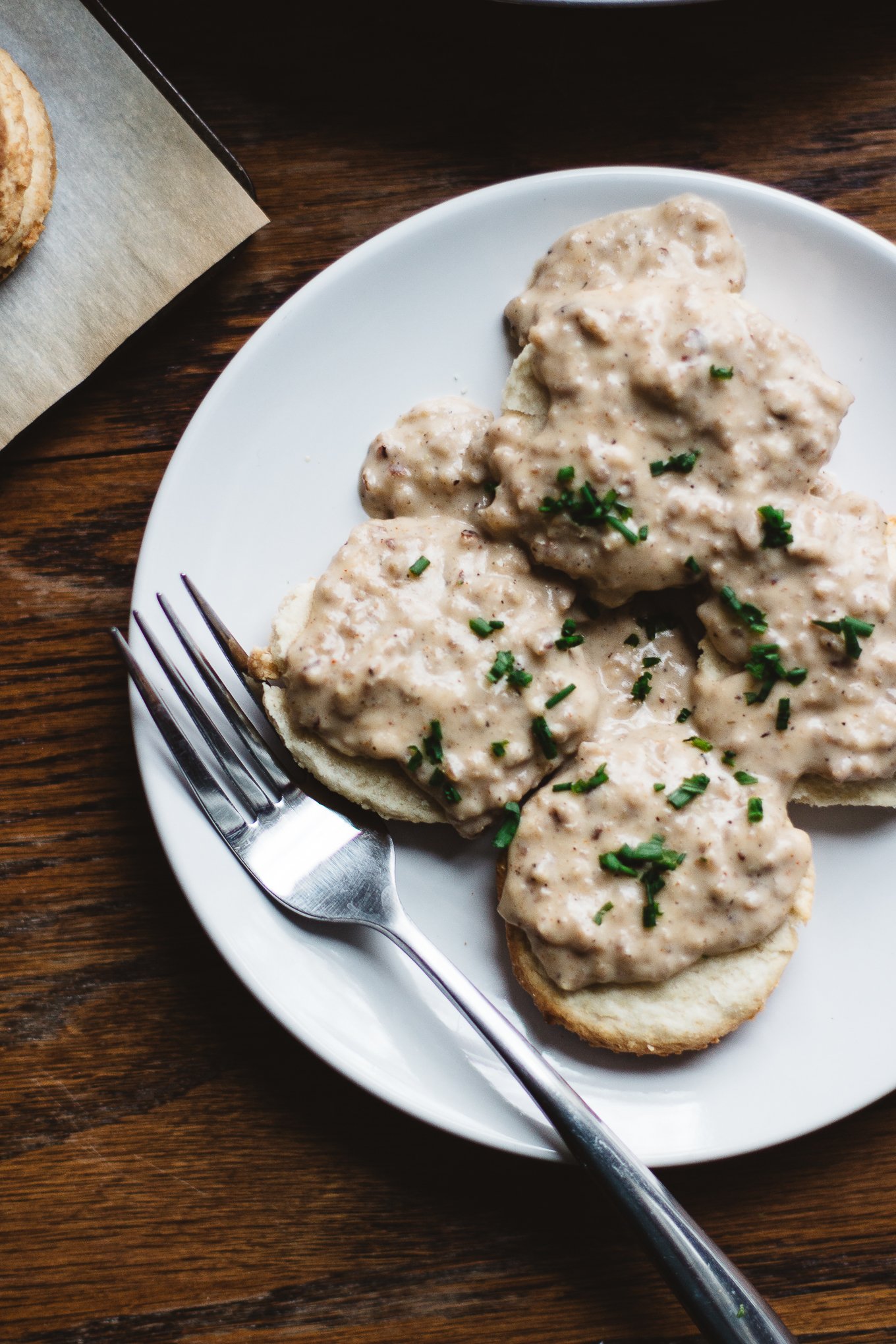 Johnsonville® Breakfast Sausages are sold nationally at a variety of retailers, including grocery, mass merchandisers, and club outlets. To find out where to buy near you visit http://www.Johnsonville.com/products/locator. For more information on Johnsonville® be sure to check out their Facebook and Twitter.
Looking for more ways to make gravy at home? Then you're in luck because My King Cook has rounded up the best ways to make it at home. To sweet the deal they've even compiled 15 mouth watering recipes to try on your own.
Photography by Josh Johnson